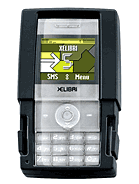 m
this phone is cool its like the og vultron look alike!!! this phone has about everything and is pretty durable constuction! man i dropped mine from my balcony and the shit still worked!!!lol
s
biggest, ugliest, dumbest phone ever
G
And there is NO MMS on the X5, the info on this site is mistaken.
G
There is a good review of the Xelibri 5 at www.club-xelibri.com .
k
hi
i buy mobil phone why
T
one thing i will say about the whole collection of Xelibri fones is the fact u will struggle to find them,so you will have a very unique fone compared to your friends,you wont find these fone poppin up everywhere like alot of the nokias do!
?
It looks like a Ninja Turtle phone :S
T
I love this fone, its great to go with combats and if you could see the clip on part which comes with the phone its attaches to cloths with ease,The colour showing doesnt give it full much cred bit in the Blue and white it looks so much better,i have ordered one(",)
P
Jeeezzz...
Siemens kicks ass in design with Xelibri series.
Remember... they are MODE DETAIL, not bussiness mobiles...
j
oh.. this looks like a calculator my mum is using
s
calculator?
gameboy?
remote control?
s
I like that design :) Looks shock-proof... don't know if it is
Total of 54 user reviews and opinions for Siemens Xelibri 5.
ADVERTISEMENTS