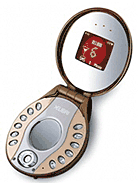 P
You clearly must NOT have a girlfriend then.
The women I know use the bathroom/bedroom mirror to "fix their faces" before going out.
What it looks like is a compact makeup kit which is used WHEN they're already out. You know, like a little "fixer-upper" kit.
Total of 123 user reviews and opinions for Siemens Xelibri 6.