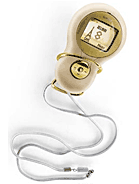 l
I very like the siemens xelibri 8 phone, but i do know the phone got sell in Malaysia or not? and what price of the siements xelibri 8 phone? can you let me know about the phone.
T
This fone is very expensive and is 100% not worth the money,its looks are tacky and basically one of the most ugliest Xelibris i have come across,may be for ladies but i dont even think they would touch it with a 10 foot barge poll!if you are lookin for a more fashion round the neck number go for the Xelibri 3
P
For some reason, it oddly reminds me of "hello kitty", or some other similar madness.
M
what the fuck is this? have siemens replaced their brains with shit or what?
e
if u 1 2 look stylish go 4 this but if u oso 1 2 look stupid oso go 4 this... USELESS PHONE!!!!!!!!(Xelibris r nice but useless-similar 2 dumb blondes)
Total of 70 user reviews and opinions for Siemens Xelibri 8.