Silk White OnePlus One now back in stock, why would you want a 16GB phone though?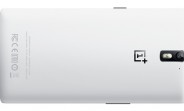 OnePlus is proud to announce the return of the Silk White color option for the One smartphone. The alternative to the Sandstone Black is now back in stock, in time for the Marshmallow update.
We've got some good news to brighten up your Friday. The OnePlus One Silk White is back! https://t.co/Za1eTUSZT1 pic.twitter.com/q5LXsLkJBY

— OnePlus (@oneplus) April 8, 2016
The thing is, the white model comes with only 16GB of built-in storage, and built-in storage is all the storage you get with the OnePlus One, as it doesn't have a microSD slot for expansion.
If you can live with that limitation though, you'd enjoy the lower price - the 16GB Silk White is $249 (or €249), while the 64GB Sandstone Black goes for fifty more of either currency.
OnePlus' real motto is "Always "settle" with our 16GB phones."
why would you want a one+ phone though? just like the title says.
Its like saying the white one plus is for design conscious who doesnt care much about spec. Thats contradicting with the way they marketed their device all this time as the phone with best specs per price ratio. People would rather have a Brand name ...