LG are finally announcing the silver-bodied version of the originally black Prada phone by LG or otherwise known as LG KE850. Since we had coming, we've even got a live shot for you to enjoy.
The new LG Prada phone will be functionally identical to its black counterpart. The only difference (and a pleasant surprise after all) is the new virtual QWERTY keyboard that the phone will offer for text input. Reportedly, the Prada phone has been a nice success for LG and they have sold more than 700,000 handsets since its launch in March 2007. You can check out our review over here.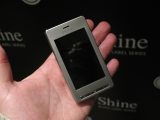 LG Prada exclusively live in silver
The LG Prada will be expected to hit the streets in silver later this month in a total of 18 European countries, including the UK, France, Germany, Spain, and Italy.
e
well peter paul i guess u have no life too since you bothered to leave a comment on this site.
p
You all have no idea. Atleast LG is trying to be differant! Motorola is the worst manufactuer going around today!! There phones are so ugly and out dated i carnt beleive there still in business!! YOU ALL NEED TO GET A LIFE and stop commenting for the...
?
"They are NOT comming out with this model." You are referring to an article that's got their heading wrong! What Slahsgear meant is that they are releasing it, dropping it on the market, clear word confusion on their side, as dropping also ...
ADVERTISEMENTS