Siri requires Apple Music subscription to answer music-related questions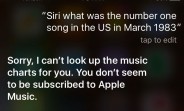 Many Apple Music subscribers, one of which is Pandora's co-creator Tom Conrad, have noticed that Siri isn't too keen on answering some questions unless a subscription to Apple Music is present. For example, searching for most popular songs in any location or a time period isn't an option for non Apple Music users.
Instead of displaying an alternative web search result, Siri right out says that she's not able to perform the look up.
Sorry, I can't look up the music charts for you. You don't seem to be subscribed to Apple Music.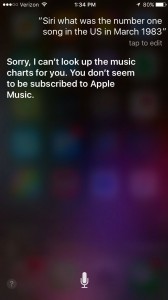 Screenshot of Siri denying an answer to a question
m
Who cares, the iphone users got the money anyway, nothing major. On the other hand, this guy was specifically looking for some issue like that, coz Apple music is about to bankrupt him.
W
Dude, you seem to have a faulty comprehension circuit. Siri isn't being asked to PLAY a song, just give the name of a song.
D
I dont know why everyone is suprised by this move, this something that was bound to happen eventually. . . . As a business prospective it only makes sense. In another 5-6 years the fingerprint security feature will become a "pay service".