The Postel and AnTuTu stars have aligned for a sizeable Sony leak. Several device model numbers have hit Postel, the Indonesian wireless authority, - five phones and a tablet. They match up with model numbers in the AnTuTu benchmark database.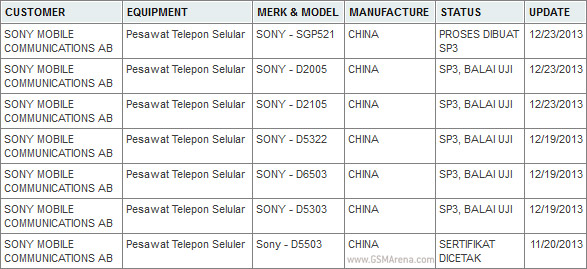 The new devices are D2005 and D2105, presumably entry-level Android phones for next year, and the SGP521 tablet. The Sony Xperia Tablet Z is SGP321, so this could be an update in the 10.1" class from Sony (now that the Xperia Z Ultra covers the phablet segment).
The C2005 is the Sony Xperia M, while the C2105 is the Sony Xperia L. That would probably make the D2005 and D2105 their replacements and it shows from the AnTuTu benchmarks.
The other three Sony devices arrived in the Postel database even earlier. The list of replacements continues - the D5303 succeeds the C5303 (Xperia SP), the D6503 succeeds the C6503 (Xperia ZL). The D5503 has no current equivalent, but judging on previous leaks, it may be the Sony Xperia Z1S / Z1 mini. Its score entry isn't new, but we're including it for the sake of completeness - these phones will probably be Sony's lineup for the first half of next year.
Here's a chart showing how each phone performs against its 2013 counterpart. The Z1S is matched up against the Xperia Z1 since both should have the same chipset.
AnTuTu
Higher is better
Sony D5503 Xperia Z1S
34376
Sony Xperia Z1
30850
Sony D6503
29745
Sony C6503 Xperia ZL
20743
Sony D5303
30145
Sony C5303 Xperia SP
15874
Sony D2105
13001
Sony C2105 Xperia L
9746
Sony D2005
12790
Sony C2005 Xperia M
9902
Thanks to everyone who sent this in!
d
need a new postel china a phone
?
meh -_- SGP521 : ??? D2005 : E1 D2105 : E1 dual D5322 : T2 Ultra dual D6503 : (Sirius) D5303 : T2 Ultra D5503 : Z1 Compact
?
just to update... D5503 is the Z1 Compact D5303 is the T2 Ultra D2005 is the E1 Dual
ADVERTISEMENTS