Smartphone roulette
Six-way camera shootout: Smartphone roulette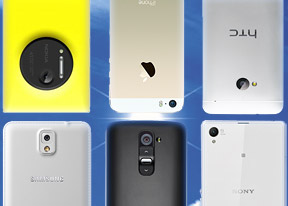 Still camera hardware and features
Camera features fall into two categories - hardware and software features. The hardware obviously creates the base of what can be achieved (e.g. great low-light shooting thanks to brighter optics or shake-free photos with optical image stabilization), with the software building on that by allowing better control of the camera or using the robust chipset to create fun effects.
| | | | | | | |
| --- | --- | --- | --- | --- | --- | --- |
| | Galaxy Note 3 | LG G2 | Xperia Z1 | Lumia 1020 | iPhone 5s | HTC One |
| Resolution | 13MP | 13MP | 20.7MP | 5MP / 38MP | 8MP | 4MP |
| Aperture | f/2.2 | f/2.4 | f/2.0 | f/2.2 | f/2.2 | f/2.0 |
| Sensor size | 1/3" | 1/3" | 1/2.3" | 1/1.5" | 1/3" | 1/3" |
| Flash | LED | LED | LED | LED, xenon | "True Tone" dual-LED | LED |
| Stabilization | Digital | Optical | Digital | Optical | Digital, video only | Optical |
| Shutter key | Volume rocker + voice | Voice | Yes | Yes | Volume rocker | Volume rocker |
| Controls | - | - | - | Manual | AE/AF lock | AE/AF lock |
| HDR | Yes | Yes | Yes (8MP only) | No | Yes | Yes |
| Panorama | Yes + spherical | Yes + spherical | Yes | Yes | Yes, HDR | Yes |
| Other | Dual shot, Animated photo, Sound & shot, Drama shot, object removal | Dual shot, Time catch, object removal | AR effect, Info eye, Timeshift burst | 4x lossless digital zoom, mechanical shutter, EV bracketing, Cinemagraph, object removal, Action shot | Unlimited Burst mode | Zoe, Action shot, object removal, Sequence shot |
Let's go over the hardware first, as that's the most important part by some distance. The Nokia Lumia 1020 obviously leads the charge here - it's the one area where this phone is miles ahead of the competition.
It has a massive sensor to begin with - a little over 50% bigger in terms of surface area compared to the closest competitor (Xperia Z1) and has double the resolution. The Xperia is almost an exception like the Lumia 1020 itself, the norm is 1/3" sensors - a quarter the surface area of the 1020 sensor - and anywhere between 3x and 10x fewer pixels.
It also has a fairly wide aperture - f/2.2 - which is impressive considering the sensor size. The Xperia Z1 and HTC One have f/2.0 lenses, though that is in part thanks to the smaller sensors. The only camera here that has a slower than f/2.2 aperture is on the LG G2 with f/2.4.
Speaking of lenses, we should mention that half of the phones have optical image stabilization (OIS) - Lumia 1020, LG G2 and HTC One. It's obviously a desirable feature for a flagship phone, though we've seen the iPhone 5s fare impressively well going only digital for video stabilization. It comes at a price though - digital stabilization reduces the field of view (it only uses the central part of the sensor with the borders acting as a buffer) and it can get confused by fast moving objects, causing an unpleasant shake effect even if the phone is perfectly still.
The OIS will help a bit with low-light photography, but without a doubt, it's more advantageous in video capturing. For photos in poor lighting, a strong flash is what is needed (a wide aperture and large sensor help too). The Lumia 1020 flexes its muscle here with its xenon flash, which is considerably more powerful than LEDs. The iPhone 5s does well for itself with a dual-LED flash (that also promises a better "True Tone" white balance), while the rest are stuck with a single-LED flash and, as we're about to see, that's often not enough.
The final - and not least important - feature of the hardware is how long it takes to process the shot and get ready for the next one. All phones are satisfyingly sub-second fast, except for the Lumia 1020 - it takes a staggering 4 seconds between photos. It may not sound like much, but in practice this is highly annoying and waiting for the phone to churn out those 38MP photos might result in missed photo opportunities more often than not (and no, shooting at just 5MP doesn't speed things up).
Time to cover the software features. Some of them actually help you take a better shot - the Nokia Lumia 1020 shines again here with full manual controls that lets you take over things like focus, shutter speed, EV and more. The Lumia 1020 is also the only phone here with a mechanical shutter.
The Sony Xperia Z1 has a "manual control" mode but that's in name only as it doesn't actually enable more controls than other Android cameras (it just unlocks more options compared to Superior Auto that does all the setup automatically).
The Apple iPhone 5s has AE/AF lock, which can be very useful in some situations, but virtually no other controls. The HTC One also has AE/AF lock, while the rest depend on automatic settings.
The high resolution sensor of the Lumia 1020 allows it to do something none of the others can - it can zoom in up to 3x on a 5MP shot, without noticeably degrading the quality. It can even do it for videos too, but we'll get to that later.
Other than allowing you to adjust the settings, the software can enhance the camera in other ways. For example, HDR mode allows you to shoot nicely exposed shots in tricky lighting conditions and is a very important feature for otherwise limited dynamic range of the phone cameras.
All phones except the Lumia 1020 have an HDR mode (the Xperia Z1 limits the resolution to 8MP though). The Lumia does automatic EV bracketing, which is like HDR but without the automatic fusing afterwards. Some people will prefer it - it can capture up to 5 photos in a -3EV to +3EV range, much wider than what other phones can and then do an HDR photo on your computer later on. Also, another thing to consider is that some phones go too far with the HDR effect (or go too conservative and you can barely tell the difference), with EV bracketing you can create the HDR manually, tuning every setting to your liking (which fits well with 1020's manual controls).
Then there's the panorama - all phones can do it, but the South Koreans (LG G2 and Samsung Galaxy Note 3) can do spherical panoramas too (think Photo Spheres and Google Street View), while the iPhone 5s does sort of an HDR panorama. The panoramas also differ in the field of view they cover and the final resolution, we'll get back to that.
Then come the fun features. Some of them can be quite useful - e.g. the dual shot capabilities (shooting with the front and back cameras simultaneously) of the LG G2 and Samsung Galaxy Note 3, which allow whoever is holding the phone to be in the shot too.
There are ways to remove moving objects - e.g. a passerby walking in your shot. Those are called different things like Eraser or Shot & Clear but they all do the same thing (Note 3, LG G2, HTC One, Lumia 1020). Then there's Drama / Action / Sequence shots (Note 3, Lumia 1020, HTC One), which insert a moving object multiple times in the shot instead of removing it.
Another trick is to capture a photo before you even press the shutter key - the phone continuously captures and discards photos and saves the ones, captured when you hit the shutter key plus several before that. That's called Timecatch shot or Timeshift burst (LG G2, Xperia Z1).
There are more cool tricks to be had - like shooting GIFs, which are highly popular on the Internet. That's Cinemagraph or Animated Photo (Lumia 1020, Galaxy Note 3).
One last thing: field of view. The Nokia Lumia 1020 beats all phones in this category, save for the HTC One. It photos are a little wider (for 16:9 photos), while the Lumia's photos are taller. We shot 4:3 photos with it, so keep in mind you can go wider with the 16:9 mode thanks to Nokia's special sensor design. The Xperia Z1 FoV is almost as wide as the 1020's, while the Galaxy Note 3 is the one with the narrowest FoV.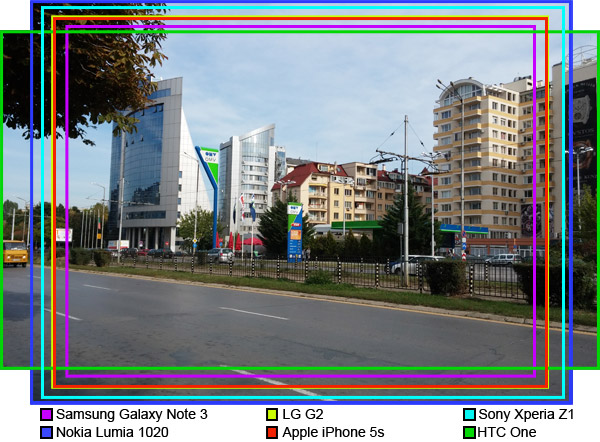 Winner: Nokia Lumia 1020
Runner up: LG G2
Third place: Sony Xperia Z1
Fourth place: Samsung Galaxy Note 3
Fifth place: HTC One
Sixth place: Apple iPhone 5s