Released back in 2009, HTC's legendary HD2 smartphone simply refuses to die. Although the device shipped with Windows Mobile 6.5 Professional, it has seen ports of several major mobile OS' including Windows Phone 7, MeeGo, and of course Android - v2.1, Jelly Bean, KitKat, and Lollipop. And now, Marshmallow has also been ported onto the handset.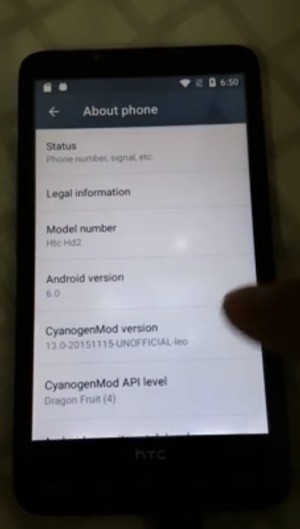 Frankly, it would be unfair to expect HD2 with Android 6.0 to function smoothly, so it comes as a little surprise that the port is "riddled with bugs and non-working features" - only screen, Wi-Fi, and audio are currently said to be working fine out-of-the-box.
Even if it doesn't provide a complete experience, the port does show that the now struggling Taiwanese company gave us some of the most impressive mobile hardware we've ever seen. For instructions on how to install the port, head to the Via 2 link below.
D
pls test side by side with my Lenovo P1 ,5000mah. i agree 11 hours screen on test. its might turn off the 3G data. its just same goes with my Samsung A7 , when wifi online surf , its hardly consume 2% in 18mins. but when go in the reality , you need ...
H
from the golden time of HTC. Why they're going downhill since then.
ADVERTISEMENTS