Skype has finally been updated to run of Windows Mobile 6.1 Professional. WM 6.1 devices are spawning recently and it was about time to add support for those too. We successfully installed and used the Skype for Windows Mobile client on both the Samsung i900 Omnia and the HTC Touch Diamond.

Chatting over Skype is not bad at all; unfortunately making calls over HSDPA is still a mucky business when it comes to voice quality. It's much better on Wi-Fi internet connection.
Another drawback is that during calls the touchscreen remains active and you are bound for accidental cheek-and-ear presses on the display. Also the green and red receiver keys don't seem to work for Skype call management and video calls are not an option despite both handsets have dedicated video call cameras.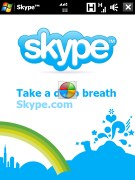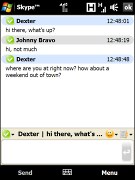 Skype now on Windows Mobile 6.1 (HTC Touch Diamond)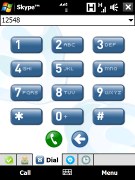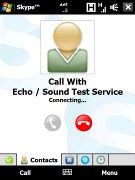 Making a call via Skype (HTC Touch Diamond)
The new Skype 2.2.0.45 however failed to make use of the full Samsung Omnia screen real estate in all application windows. Yes, it gets used properly when you are viewing your contacts list or the settings page, however most of the other windows leave an unused white or black band at the bottom of the screen. At least it doesn't hurt functionality.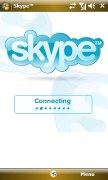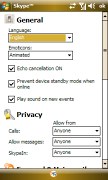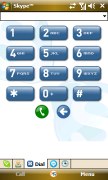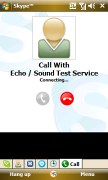 The unusual display resolution pays a price in applications such as the new Skype client
You can download Skype 2.2.0.45 here both in .exe and .cab variant.
J
Let me find it in my storage.
D
Please tell me the procedure to download skype on my htc touch diamond
ADVERTISEMENTS