€500 and above
On this page we're launching into the monetary stratosphere so we'll change tactic. Instead of talking of specs and disadvantages, we will be directly comparing phones against their closest rivals - to get the best flagship, you need to get one that's better than all the others, right?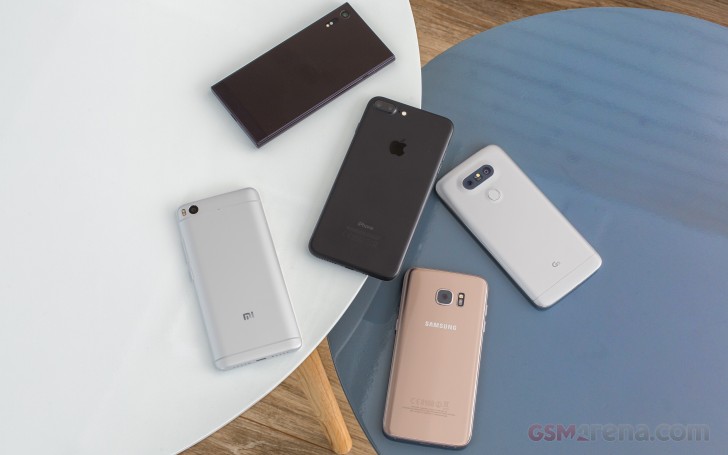 Let's start with the obvious - the iPhone 7 and Galaxy S7 will split the majority of premium smartphone sales between them. But which one is better suited to your needs?
The iPhone 7 is now water resistant (IP67) and has stereo speakers, its screen is one of the very best, its chipset is the best, the camera is quite impressive though Panoramic photos and HDR are still better on the iPhone 6s. The Galaxy S7 also gives you a bigger screen (an AMOLED), a microSD slot and a headphone jack (yes, that's something to worry about these days). You'll get more out of S7's battery, but it will have to wait longer between major OS upgrades. Both Samsung and Apple are pushing their own mobile payment systems around the world.
Bigger, sharper screen (5.1" 577ppi vs. 4.7" 326ppi)
Better battery life (80h Endurance vs. 61h); Fast charging (+ wireless)
Always on screen (puts the Endurance on par)
Better water resistance (IP68 vs. IP67)
Headphone jack
microSD slot
Heart rate sensor
Costs less

Faster chipset
Latest OS version, faster and for longer
Better video options (1080p @ 120fps vs. 60fps)
Stereo speakers, slightly louder
Brighter screen (with excellent color calibration)
3D Touch

Review
Review
The situation for people who want a bigger screen is much the same - Galaxy S7 edge vs. iPhone 7 Plus. This year Apple feels closer to Samsung in terms of feature load than ever before, but Apple rarely settles for first when it can be the best instead.
Curved, sharper screen (534ppi vs. 401ppi)
Always on screen
Stereo sound recording in videos (vs. mono)
Better battery life (98h vs. 75h); Fast and wireless charging
microSD card slot

Dual 12MP camera with OIS (vs. single 12MP OIS)
Stereo speakers
Best mobile chipset
3D Touch
Latest OS version, faster and for longer

Review
Review
Let's do another pair! Google specifically priced its Pixel phones on par with the iPhones, let's see how that pans out. iPhones often get admonished for costing too much for what they offer, but compared to the Pixel XL, well, the iPhone 7 Plus just offers more.
Okay, okay, no headphone jack but Apple's accessory ecosystem moves faster and often offers higher-quality products than Android's, so iPhone users will be fine. Even the headphone adapter included in the retail box works well enough.
But hey, only Google's phones offers split-screen multitasking if that's something you'd like to have. And there's the promise of Google's Daydream VR experience, which Apple really doesn't have an answer to (yet!).
Dual 12MP camera with OIS (vs. single 12MP, no OIS)
Water resistance (vs. splash resistance)
Stereo speakers
3D Touch
256GB version
Best mobile chipset
Siri can certainly hold its own when it comes to controling your phone with voice

Sharper screen (534ppi vs. 401ppi)
Lighter and marginally more compact (at the same screen size)
Fast charging
Headphone jack
3D Touch alternative by long-pressing
Google Assistant migght be next big thing in digital assistants
Daydream VR is perhaps the next big thing in the living room entertainment and Apple doesn't have an answer to that

Review
Preview
This doesn't look too good. Okay, let's try the LG V20 instead. It too has a wide/telephoto camera setup (16MP + 8MP vs. 2x 12MP) and its selfie camera is a sort of 2-in-1. The sleek metal shell of the V20 is shockproof to a MIL-STD-810G rating, perhaps the kind of damage more likely to occur than unplanned dives in a pool.
At nearly the same physical size, the LG squeezes in a 5.7" screen that has a friend - the Always on secondary screen. It's helpful even when the main screen is on, serving as a shortcut bar to speed up notifications. And since we talked about accessories, in some regions the LG V20 will come with a pair of pricey Bang & Olufsen headphones (check before you buy though).
Bigger, sharper screen in the same body (5.7" 513ppi vs. 5.5" 401ppi)
Secondary always on screen (shows shortcuts/tools when main screen is on)
Military shockproof rating (but no water resistance)
Selfie camera is dual FoV (single lens)
24-bit/192kHz stereo sound in videos vs. mono audio
Headphone jack (and in some regions B&O headset)
Removable battery; Fast charging
microSD card slot
Slightly louder speaker (but mono vs. stereo)

Waterproof
Brighter screen, better color accuracy
Better battery life (75h vs. 63h)
3D Touch
1080p @ 60 and 120fps

Review
Review
Did you know that HTC built the Google Pixels? Let's see how the HTC 10 stacks up against the smaller Pixel. Things look more balanced, though HTC put two OIS systems on its own phone - one for the main camera, one for the selfie cam. And it gives you a dual speaker system plus a dedicated headphone amp, so it wins over music buffs.
The Pixel (and Pixel XL) use the first batch of Snapdragon 821 chipsets. However, they are downclocked from their nominal speeds to ones that match the Snapdragon 820. We'll have to do extensive benchmarks, but somehow we don't see it as a huge boon to performance.
Bigger, sharper screen (5.2" 565ppi vs. 5" 441ppi)
12MP camera with OIS (vs. no OIS)
5MP camera also has OIS
Dual speakers (front + bottom); Dedicated headphone amp
microSD card slot
Bigger battery (3,000mAh vs. 2,770mAh)
Stereo sound recording vs. mono

Faster OS updates
Splash and dust resistant
Downclocked Snapdragon 821 (same clocks as S820)

Review
Preview
We can try other combos too. One could argue that the Moto Z Force is one of the best Android around, but one will have trouble finding it outside the US. So, we're forced (heh) to use the regular Moto Z for this comparison. Can it beat the LG V20 to become the non-Samsung Android to have?
Super thin! (5.2mm vs. 7.6mm)
Modular design (add-on cameras, batteries, projectors, etc.)
Cleaner Android (but one step behind on updates)

Dual camera 16MP (OIS) + 8MP (vs. 13MP with OIS)
Selfie camera with dual FoV
Bigger screen (5.7" vs. 5.5")
Second always on screen (vs. Motoactv)
Better battery life (63h vs. 53h); removable battery
Headphone jack (B&O headset in some regions)

Review
Review
Let's bring Sony into the game as well. Currently, the Xperia XZ is its top flagship, the true successor to the beloved Z-series. Is the XZ the hidden gem that people miss when they buy a Galaxy S7?
The Xperia XZ is waterproof (IP68), a Sony tradition, but now so does Samsung. The XZ is still ahead thanks to its stereo speakers, but somehow the once-lauded Sony battery life has faded. And despite constant iteration, the Xperia camera lacks things like Dual Pixel autofocus (Predictive Hybrid AF works well, just not as well) not to mention OIS (replaced by an admittedly solid EIS).
Stereo speakers (but Below average loudness vs. Good)
13MP selfie camera (vs. 5MP)

Better battery life (80h vs. 72h); wireless charging
Sharper screen (577ppi vs. 424ppi); better color accuracy
Always on screen
Samsung Pay
Fingerprint reader on the US model (why, Sony, why?)
Heart rate sensor
Costs less

Review
Review
This page would have been littered with comparisons against the Galaxy Note7, but we all know what happened there (well, not what caused it, but the end effect is the same). The Galaxy S7 edge had to step in and it did a fine job - it's still a best-seller for Samsung.
Still, it's an age old warning - once Sony, HTC, even Nokia flew high, now after a series of missteps they are eating humble pie. So plan your next step carefully Samsung, the world is watching.