Introduction
The early 2015 flagships are on sale, the low and mid-range phones are out in force - it's a good time to consider breaking that piggy bank of yours if you are after a new smartphone.
In our last Smartphone buyer's guide edition we advised you to hold off buying an early 2014 flagship, now it's quite the opposite. Their replacements are out and the prices of the old models has fallen. That said, some excellent devices have hit the market since February so we can see how you'd be tempted to splurge.
This Buyer's guide is structured by price, it starts with sub-€100 phones and then each chapter increase the price ceiling by €100. In the final chapter money is no object. We've rounded up phones with OSes for every taste - plenty of Androids, but also increased completion from Windows Phone, some iOS and BlackBerry, even Firefox OS and Tizen.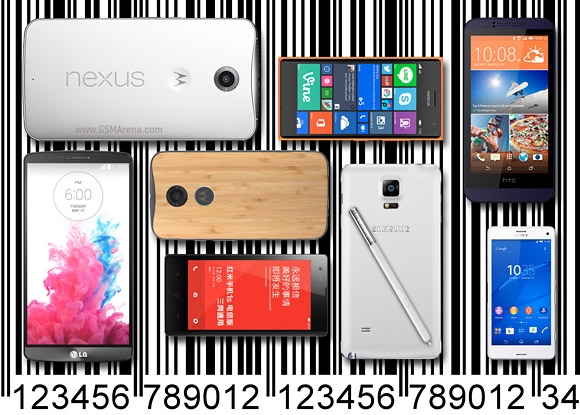 The sub-€100 segment proved to be the most diverse with representatives of four different OSes being included. We used a few simple rules as guidelines - no pre-KitKat phones and no screens under 480 x 800px. It may sound restrictive, but you can get a 5" 720p phone for €99, HD video is not out of reach either.
Things heat up surprisingly fast, as the €100-€200 chapter offers a couple of phablets and even a phone with a Snapdragon 800 chipset and OIS camera (though there's a catch). 64-bit processors running Lollipop and 1080p cameras are common for this price range.
This puts a lot of pressure on the €200-€300 phones, but they deliver - their budgets allow for metal builds, better selfie cameras, impressive stereo speakers, one even has enough RAM to rival your old laptop.
The €300-€400 group was dominated by a clique of phones that offer various combinations of metal frames, quality cameras, stereo speakers and waterproofing. Some of those are previous-gen flagships, but they still have a lot of fight in them.
Only two devices made the €400-€500 group and they are promptly eclipsed by the "money's no object" group, which features the latest flagships on the market. Some of them are brand new, others come from late 2014, but you can't buy better phones than these.
While we strived for offering a variety of options, it's important to note that we only listed phones with wide availability - single carrier or single country phones did not make the cut. You may also notice that some widely available phones didn't get a nod either, they just didn't rate high enough. Check the final chapter for why some got cut.
M
I bought samsung s5 last year,it is amazing device and i think the android os is better than os i used before : ios ,blackberry ,windows .. Early in 2015 .. other brands released better phones than my s5 , so as an advise :please choose a satisfyin...
k
Oneplus one s missing..
p
Only a few phones support tmobile LTE band 12. Now is not a good time to buy a new GSM phone if you use tmobile.