Final words
Does it seem strange that these days we spend more time picking out our new phone than almost anything else we own? Or is it ok, considering we spend more time on our phones than just about anything else - our TVs and laptops certainly don't see that much of us as before.
Some people love the process and can spend hours digging up and comparing minute details, while others are put off by the barrage of marketing terms and pick a phone based on a short description. This buyer's guide caters to the latter with concise descriptions of worthy phones and can serve as a starting off point for the former.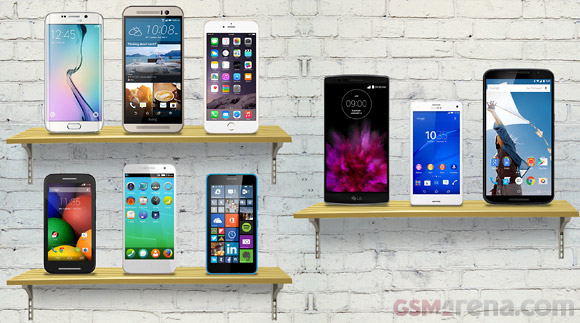 If you are the type to want more detail, our reviews have plenty of that to offer. We made sure to link each review (or just a hands-on if there isn't one) so you can dive in for a more extensive look. For a few high-profile phones we even have direct comparisons.
At the bottom of a phone's specs page is a distillation of the tests we've done on each phone. This includes benchmark scores, display quality, camera and loudspeaker performance, battery life too. You can click on those to be taken either to the relevant part of the review or a page that helps you compare multiple phones.
We've had our Photo and Video comparison tools for a while now, they allow you to pit up to three phone cameras against each other. More recent additions are the table of all Basemark results and the table of all battery scores.
While we probably haven't seen the best Sony has in store for 2015, it's safe to start shopping around for a new flagship. At the other end of the spectrum are affordable devices that impress with design and specs.
We're starting to wonder if it's better to save up for a flagship and keep it for 2-3 years or just grab a phone from the lower end of the scale and change it every year.