Gaming phones
With the growing popularity of mobile gaming, this category should be in pretty much every smartphone buyer's guide. And unlike two or three years ago, the market offers quite a few options to choose from. And the good news is, not all gaming phones are expensive.
But what makes a gaming phone a good one? You need a large battery, big screen - preferably with high-refresh rate, and a powerful SoC behind the wheel. The additional gaming features such as accessory compatibility, gamer's aesthetics, and multi-functional in-game buttons are a plus.
But if you are not into that stuff and just want a capable phone for casual gaming, almost any phone with Snapdragon 845 and Snapdragon 855 or Huawei's or Samsung's top-end chipsets will do the job. That's why we didn't include phones such as the Pocophone F1, for example, which covers all the basics for a gaming smartphone minus the gaming design.
Good: Big 90Hz OLED screen, no notches or holes, fast in-display FP reader, near-stock Android, battery life
Bad: No audio jack, no microSD slot, cameras not on par with the competition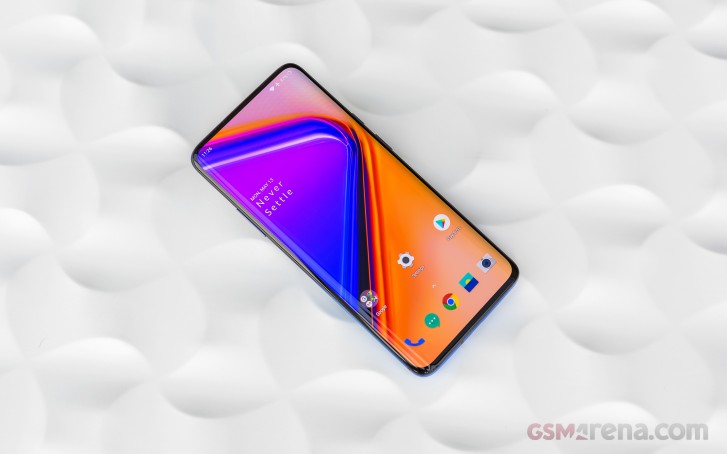 We kick things off with a trendy and recent release - the OnePlus 7 Pro. Although not marketed as a gaming device, the handset can surely give some of the strictly gaming-centric phones a run for their money. It has one of the few high-refresh rate OLED panels on the market and it's also one of the few with true full-screen designs - no notches and no holes that may obstruct your gaming experience. It's also one of the fastest Android smartphones around and battery life is pretty good too.
Unfortunately, though, the lack of 3.5mm audio jack and microSD card keep us from giving the phone a solid recommendation. The relatively lower price than the high-end competition could potentially help you go over the fence. That 6.67-inch 90Hz OLED screen is gorgeous and it's a rare find.
Good: 90Hz OLED screen, no notches or holes, plenty of accessories, gaming-centric features such as Air Triggers
Bad: Fingerprint reader, no microSD slot, accessorizing can be expensive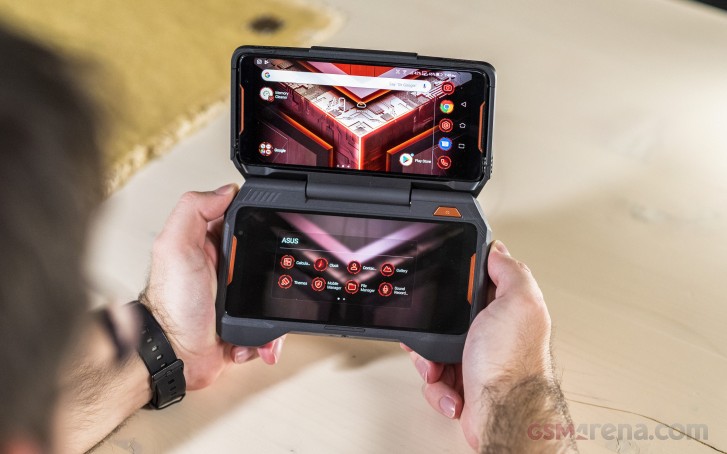 If you are truly invested in mobile gaming, the Asus ROG Phone has what you need. Riding on the success of Asus' ROG (Republic of Gamers) brand for PC hardware, the ROG Phone offers so many over-the-top features and accessories that it's in a class of its own. It's also one of the best-performing, if not the best, Snapdragon 845-powered devices on the market.
Aside from the stellar 90Hz OLED screen, the phone also has cutting-edge tech like Squeeze detection and AirTrigger tap pads to enhance the gaming experience even further. The two USB-C connectors can both be used for charging so you won't have to think of awkward ways to hold the device while gaming while plugged in. And this is just one of the many small details that make the gaming experience worthwhile.
However, the lackluster fingerprint reader on the back and the absence of a microSD card slot should be taken into account. More importantly, though, the cost of the accessories will make you think twice before investing in the ecosystem. All the accessories combined can cost as much as the phone itself, and it's an expensive phone to begin with.
Good: Huge OLED screen, long battery life, great camera
Bad: Proprietary memory cards support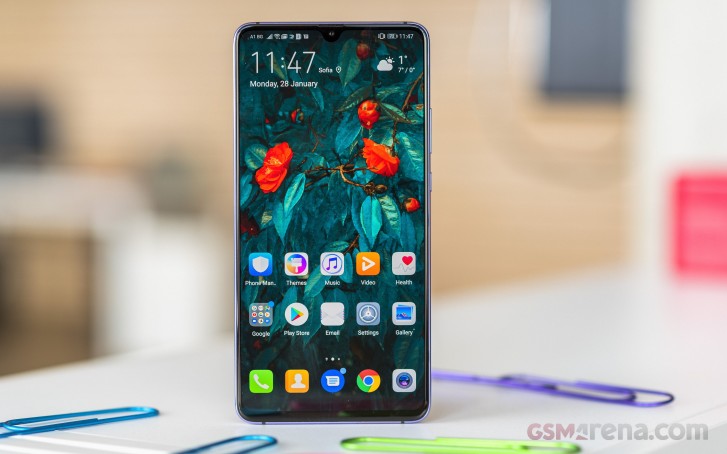 When Huawei makes a gaming-oriented smartphone for its flagship Mate series, you know mobile gaming is taking off. The Mate 20 X is arguably the best of the bunch for people looking for the best possible screen experience. The handset is in a class of its own with the humongous 7.12-inch OLED panel and game-friendly resolution - the Kirin 980 chipset will handle everything you throw at it.
Additionally, the phone has stereo loudspeakers, long battery life, and flagship-worthy camera setup. It's a great all-rounder for big-handed users. The only real downside is the lack of microSD card support. You can still get one of those proprietary NM cards, but they are harder to find and tend to be more expensive than the mainstream microSD.
Good: 90Hz OLED screen, long battery life, active cooling system, gaming-centric features
Bad: The gaming aesthetics might not be to everyone's taste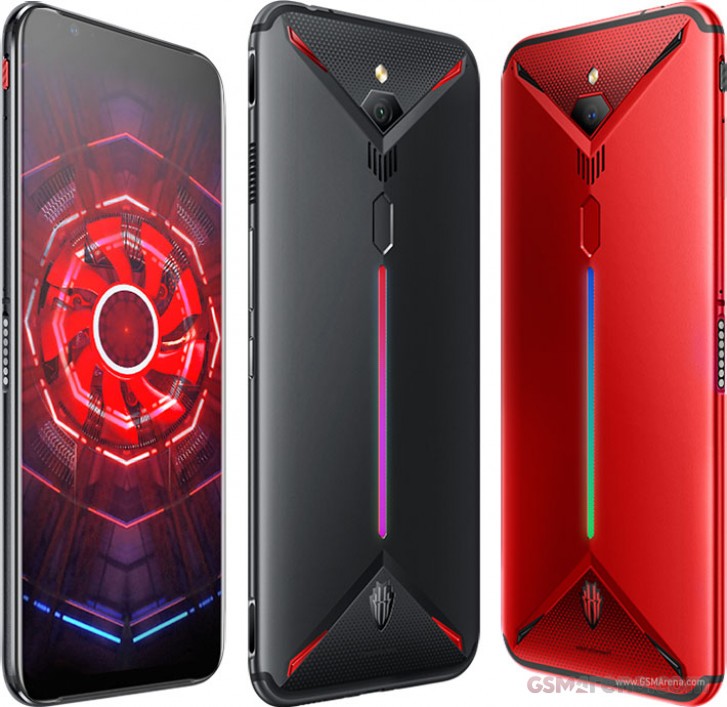 Unfortunately, it's hard to say much about a product that we haven't reviewed, but the nubia Red Magic 3 looks too good to be overlooked in this segment. ZTE's sub-brand nubia made something very unique and at an impressively low price.
For just under €500, you get a flagship-grade SoC coupled with RGB lighting, a rare 90Hz AMOLED screen, stereo loudspeakers and ultrasonic pressure-sensitive zones for better control while gaming. Battery life should be stellar too having a 5,000 mAh unit inside. Moreover, nubia has found a way to incorporate an active cooling system using a tiny fan to keep the phone cooler so it can sustain peak performance for longer periods of time.
Good: AMOLED screen, long battery life, low latency touch, improved cooling system
Bad: The gaming aesthetics might not be to everyone's taste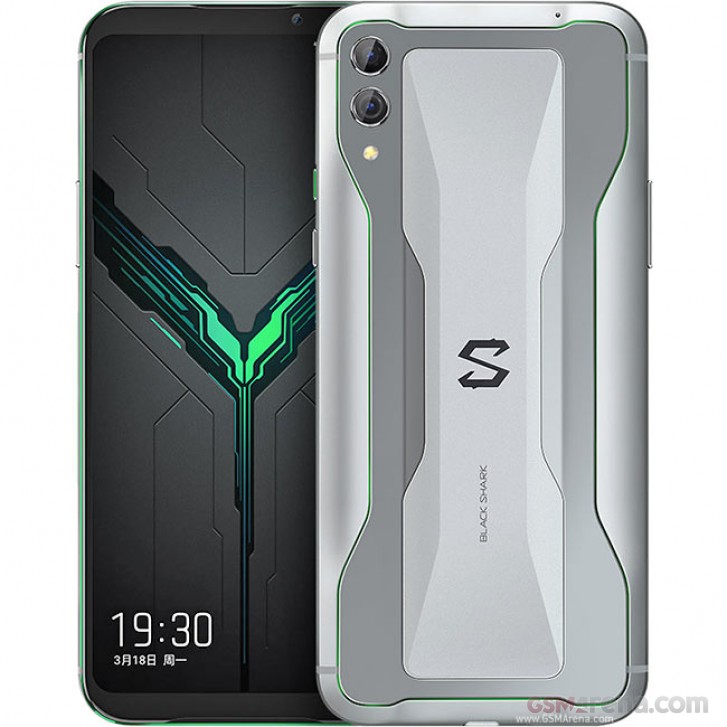 Just like the Red Magic 3, Xiaomi's Black Shark 2 is hard to pass on when looking for a gaming phone. Once again, the phone famous for its affordability as the Black Shark 2 offers top-notch hardware without asking too much in return. It sports the latest Snapdragon 855 chipset as opposed to the Snapdragon 845 inside on the Razer Phone 2 and the Asus ROG Phone. The SoC is complemented with a big copper heatsink and a heat pipe to extend the CPU's and GPU's peak performance during long gaming sessions.
Xiaomi boasts the world's lowest touch latency and a highest touch sensitivity rate of 240Hz, which is essential for competitive gaming. It appears that those two are the key selling points and set the phone apart from the rest of the gaming handsets. Battery life should be good too considering the generous 4,000 mAh unit inside. Unfortunately, we haven't reviewed this one either.
Good: 120Hz IGZO IPS panel, effective cooling, minimalist industrial-looking design
Bad: Bezels, battery, no audio jack, camera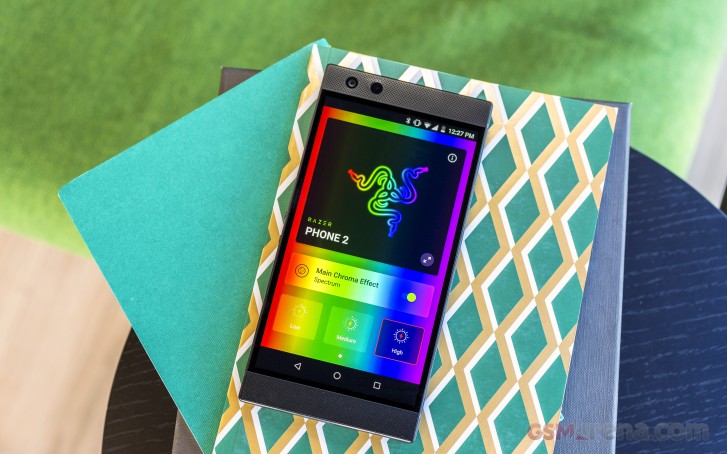 The rather pricey at launch Razer Phone 2 is now more than reasonably priced, and it's the only smartphone on the market - except its predecessor - that offers 120Hz refresh rate of the display. Sure, it's not OLED like the other gaming phones, but the IGZO IPS panel gets bright enough and it does the job pretty well.
The cooling solution keeps the Snapdragon 845 cool enough for long gaming sessions while the unusual, yet clean design may attract more than just gamers. However, the high-refresh rate screen comes at a price and that's battery life. The high-refresh rate takes a big toll on the battery while the missing 3.5mm audio jack and lackluster camera performance may sway away some potential buyers.