IDC and Counterpoint: 2018 saw first ever smartphone sales decline globally
Last year ended on a down note that smartphone sales were in decline and there is no light in the end of the tunnel. With January ending, two top analyst companies - IDC and Counterpoint, introduced their reports about sales in 2018 and the numbers do not look good. Both reports show a total decline of 4%, with IDC calling it "the worst year ever".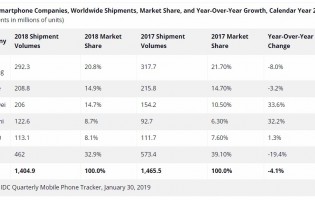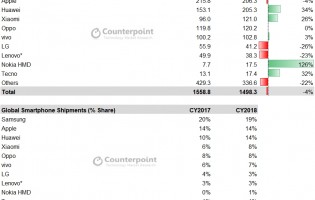 IDC numbers • Counterpoint numbers
IDC and Counterpoint have a different way of calculating sales, but the numbers more or less align - Samsung and Apple posted a yearly decline in units pushed, while the four biggest Chinese companies saw an increase.
Huawei is the biggest gainer among, with an increase of nearly a third over its 2017 sales. The Shenzhen-based manufacturer surpassed the 200 million threshold and is breathing down Apple's neck with just 1-2 million units separating the two.
Although Samsung is still in the lead, it couldn't push over 300 million smartphones, losing 1 percent point of its market share. IDC pointed out that the incoming 5G revolution could turn the tables around, but it is in the hands of the manufacturers to maintain their spots in the market.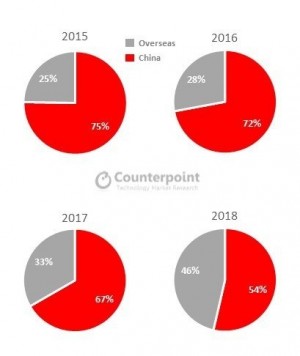 HOVX shipments
Counterpoint, on the other hand, showcased an increasing trend of Chinese companies expanding outside their domestic market. The so-called HOVX (Huawei, Oppo, vivo, Xiaomi) increased rapidly its overseas shipments' share and from only 25% sold in 2017 it reached 46% in 2018. .
IDC clarified that despite all the challenges the smartphone market is facing, the largest focal point remains that the China market had a terrible decline with volumes down 10% (on top of the 5% from last year), revealing HOVX is mostly relying on overseas market to keep growing. The Top Six makers account for 75% of all sales.
D
Well people had enough of Samsungs and apples with pricetag of 1000+. Pocophone and simillar phones are great enough. Noone wants to waste money. There are lot better things to buy than having a phone which is 0,5 seconds faster in running sam...
A
This is because companies think they can charge ridiculous amounts of money for their devices and consumers will keep buying blindly. Also recent models don't offer anything that would want to make someone with a recent flagship to spend that much m...
D
Yeah Nokia is doing great. It's doing really well in China which is the most competitive smartphone market.
ADVERTISEMENTS