The analysts over at Strategy Analytics has posted a report on the global smartphone shipments for Q3 2013. For the period, over 251 million smartphones have been shipped worldwide.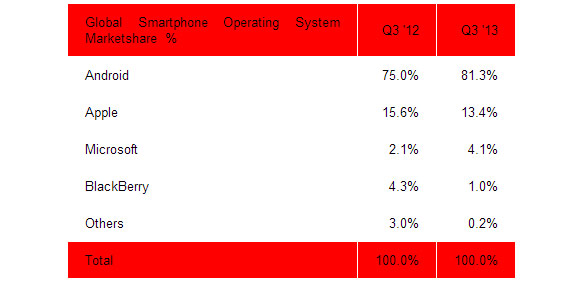 This marks a significant growth of 45% on an annual basis - Q3 2012 saw the shipment of 172.8 million smartphones. The main force behind the growth is "robust demand" for Android and Windows Phone devices in Europe and Asia.
Android took a whooping 81% global share with 204.4 million units sold. Google's market dominance means four out of every five smartphones now runs Android. Strategy Analytics points out Google's mobile OS keeps gaining user base at the expense of BlackBerry and Apple.
The Canadian manufacturer's smartphone position slid even further down from 4 percent in Q3 2012 to just 1 percent. Its BlackBerry OS 10 running smartphones combined sold just 2.5 million for the quarter. In comparison, in Q3 2012 BlackBerry sold 7.5 million units.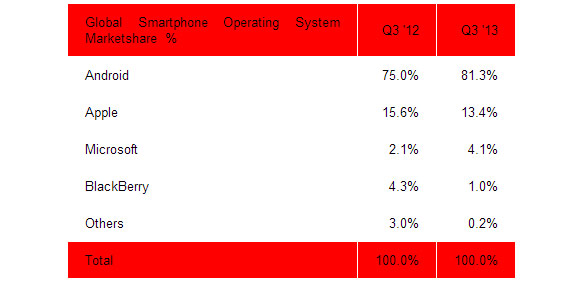 The surprise of the report comes from Redmond, Washington DC. Microsoft's Windows Phone now powers 10.2 million smartphones - a stark jump of 178% over the 3.7 million units that were sold in Q3 2012. As a result, the company's smartphone market share has doubled from 2 percent to 4 percent in the past year.
The success is largely due to the success of the Nokia Lumia line up in Europe, Asia and the US. Windows Phone is still struggling to gain traction in Japan, South Korea and Africa, Strategy Analytics points out.
d
Yes of course you can, just disable all the stock apps that you don't want in the settings.
D
yes..overall..not in phones
D
Microsoft has done this mostly with Nokia and very little or none from the other OEM. If Microsoft has a hit with the Nokia Lumia 1520 and maybe a new update to the Lumia 920 they might get close to 10%. Apple, if they would come out with a 5" ...
ADVERTISEMENTS