We've reached the quarter finals of our Smartphone World Cup after some high-profile departures in the round of 16. You have until Friday to support your favorites and you can vote once a day in each match.
Nokia 7 plus vs. Samsung Galaxy S9+
These two come from different walks of life - the Galaxy S9+ is a flagship representing the best that Samsung has to offer. Its screen, camera and chipset are among the best and there's no shortage of perks - waterproofing, stereo speakers, HDR10 screen, fast wireless charging, you name it.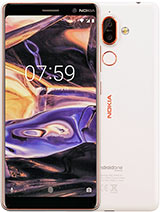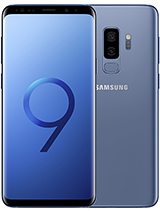 Nokia 7 plus • Samsung Galaxy S9+
The Nokia 7 plus can't fight the Galaxy feature for feature, but it really doesn't need to - it costs less than half as much. The phone goes for mass appeal with a two-tone design and Nokia levels of durability along with the appeal of Zeiss lens. The nostalgia factor alone earns this phone some points, the solid execution scores the rest.
Nokia 7 plus vs. Samsung Galaxy S9+
Xiaomi Mi 8 vs. Huawei P20 Pro
Everyone loves an underdog and the Xiaomi Mi 8 might look like it in this fight. Working on a tighter budget - again about half - and with no Leica to back it up, Xiaomi managed to create an excellent dual camera. It even has 2160p at 60 fps video to lord over the Huawei, not to mention HDR10 support for its AMOLED screen.
The Huawei P20 Pro is the only phone with a triple camera on the market - and the only one with 3x optical zoom. Plus, despite Xiaomi's valiant efforts, the Leica camera scores higher in both photo and video tests. Stereo speakers, water resistance and very fast charging just put the cherry on top.
Xiaomi Mi 8 vs. Huawei P20 Pro
Google Pixel 2 XL vs. OnePlus 6
The Google Pixel 2 XL is what you get when a software company designs a phone. Instead of dual or triple cameras, Google took a single sensor, added processing magic and got some of the best low-light, HDR and bokeh shots on the market. Not that the Pixel is lacking in goodies like stereo speakers or waterproofing (which its opponent misses).
The OnePlus 6 only recently joined the race, but it is more affordable than the aging Pixel. This gives it the advantage of a newer chipset and as per OnePlus tradition, it has tons of memory. Another tradition is the blazing fast Dash charge. Both phones run relatively clean Android, though each company left its mark on the software (yes, even Google). Updates are fast too - faster on the Pixel, but OnePlus does okay.
Google Pixel 2 XL vs. OnePlus 6
LG G7 ThinQ vs. vivo NEX S
This is a clash of the old and the new. The vivo NEX S is selling a future where instead of causing notches, selfie cameras pop up and retract all by themselves. And where the fingerprint reader lives under the screen. And 4,000 mAh batteries are standard. As are huge Super AMOLED screens.
The LG G7 ThinQ meanwhile hearkens back to the best of LG flagships. With no pop up mechanism to worry about, the phone is quite rugged (IP68 and MIL-STD-810G). And the camera features one of the few wide-angle lenses on the market, not to mention the rare ability to record HDR video (which you can view on the Dolby Vision/HDR10 screen).
LG G7 ThinQ vs. vivo NEX S
The bracket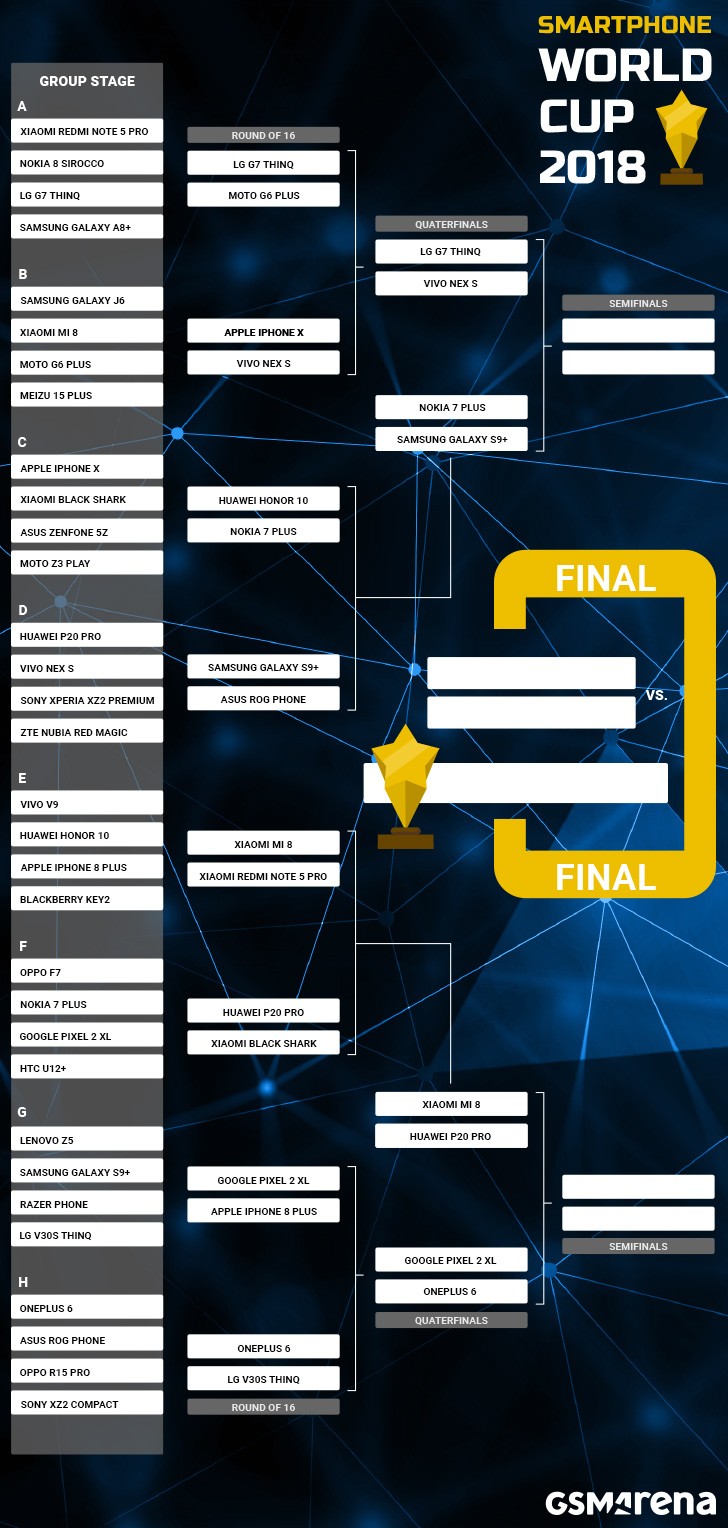 ?
When will be the semi-final???
V
S9+ vs Nokia 7 plus. Easy pick S9+ does everything better. Xiaomi Mi 8 is much cheaper and less gimmicky than Pro20 but offers similar performance, so Mi 8 wins. One Plus 6 much cheaper better performance pixel 2 XL is kind of a flop with ...