IDC has come out with its report on the global smartphone market and the cellphone market in general in the first quarter of this year. The numbers show that smartphones continue to pick up speed and have finally managed to outsell feature phones.
The total number of shipped phones was 418.6 million units out of which 216.2 million were smartphones or 51.6%. For comparison's sake last year's Q1 saw 402.4 million units shipped in total.
Samsung was again the most dominant player in the game, propelling 115 million units to the shelves out of which 70.7 million were smartphones. That's 32.7% share of the global smartphone shipments and 27.5% of all phone shipments in the last quarter, and enough for first place in both categories. Samsung's year over year increase in smartphone shipments in Q1 is a whopping 60.7%.
Apple is a distant second, managing to ship just over half the amount of smartphones Samsung sold. The 37.4 million units got the Cupertino giant a market share of 17.3%. The 6.6% YoY increase Apple achieved is much lower than the smartphone market in general, but better than the 4% growth of the global cellphone market.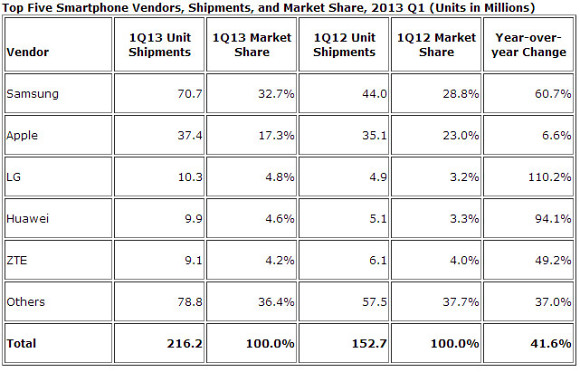 Nokia rules in second place when it comes to total phone shipments with 61.9 million units but saw a 25.1% decline YoY and didn't even make it to the top 5 smartphone makers in Q1 of 2013.
LG climbed to the third sport in the smartphone game, shipping 10.3 million Optimus devices. It is also the company to achieve the biggest YoY growth, having sold just 4.9 million units in Q1 of 2012. Huawei placed right behind the Korean company, selling 10 million smartphones in the past three months.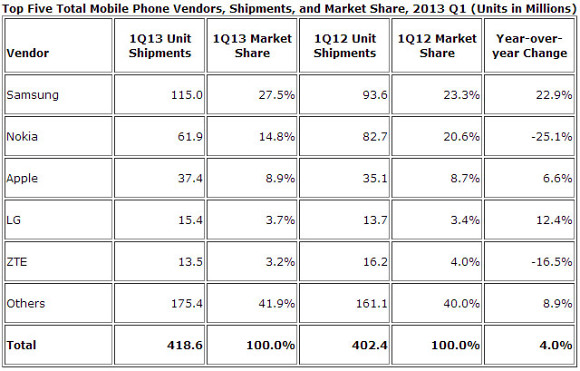 Last year's Q1 saw 152.7 million smartphones shipped while this one there were 216.2 million, which constitutes a 41.6% growth. In comparison the total phone shipments grew just 4.0%, suggesting that the featurephone sales have actually dropped quite significantly.
a
ok you said better build quality wheres is your "features and performance"? its all in samsung specially galaxy s4
J
Just kick off STEPHEN ELOP from that company & Nokia will come to TOP in less than 4months xD
ADVERTISEMENTS