Leaked specs for two upcoming Qualcomm chipsets, the Snapdragon 618 and 620, reveal they will use big.LITTLE setups with ARM's new Cortex-A72 core. The 620 has leaked previously, but with entirely different specs.
According to the new leak, the Snapdragon 620 (8976) has four Cortex-A72 cores (codenamed Maia) and four Cortex-A53. The Snapdragon 618 (8956) is similar, but has only two A72s. Both use a new Adreno 510 GPU, which is the low-power version of the Adreno 530 to be sound in the new Snapdragon 820 and 815.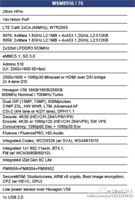 Leaked specs for Snapdragon 620 and 618
The chipsets can handle two 13MP cameras (at 930Mpix/sec), or one camera of up to 21MP resolution. For video they top out at 2160p @ 30fps or 1080p @ 120fps. On the connectivity side there's LTE Cat. 6 (300Mbps), Wi-Fi 802.11ac, Bluetooth 4.1, Miracast, HDMI and USB 2.0.
The Snapdragon 620 and 618 will be made on a 28nm process, the same one as the Snapdragon 800, 410 and other popular chipsets. The rumor for the Snapdragon 625 and 629 promised a more efficient 20m process, while the new 815 and 820 chipsets will go down to 14nm.
That's not the only inconsistency - the previous 620 leak showed a quad-core processor with Taipan cores (the successor to Qualcomm's custom Krait core) and Adreno 418, plus Cat. 10 LTE. So take it all with a healthy pinch of salt.
C
Well,to me it sounds just right.The 28nm process node is wide spread and available(read cheep),while the TDP on this "weak" cores shouldn't be a problem at all. What i call a total BS is the rumor of the next gen 8xx SoC to be build on...
F
For your information the 808 has a dedicated chipset for handling heavy camera loads, this is just out of question for new phone who barely afford additional realstate on their boards.
?
Whats taking them so long to get their custom core ready? Using arm chip designs mean snapdragon/mediatek/exynos are all the same.....