AnTuTu posted on its Weibo account the detected specs of the Samsung Galaxy S7, the 5.1" one (model number SM-G935A). This, as it turns out, is the Snapdragon 820 version, which has essentially the same specs as the Galaxy S7 edge+ version.
The chipset is paired with 4GB of RAM and runs Android 6.0 Marshmallow (with TouchWiz, of course). This particular unit comes with 64GB of storage, but obviously that's no guarantee that Samsung will be moving up from using 32GB as base. And also no word on a microSD slot, as expected.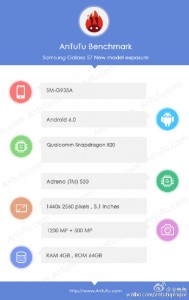 Samsung Galaxy S7 specs as detected by AnTuTu
The Galaxy S7 has a new camera setup – 12MP BRITECELL sensor on the back and 5MP snapper on the front. The new camera promises better low-light performance and a wider dynamic range compared to the current model.
We will have to feign surprise when Samsung unveils the S7 lineup, we know its ins and outs already. One thing that's not 100% clear is how the Snapdragon and Exynos chipsets will be distributed across the 5.1", 5.5" and 6" models.
s
There's a market for both 4.7 inchers and phablets. It's a matter of preference. Anyway I'm fairly certain an S7 edge+ will be rolling out with a 5.7" display.
?
Im sorry for before and get were you are coming from. But you gotta be able to accept that resolution is still a decent chunk of the equation. And not everyone that states something about mp thinks only mp count. Just when iphone users strike b...
?
I dont think the power efficiency will be that different. The only main difference will be cpu and audio performamce on the Exynos having a clear lead. We know the GPU difference wont be big like you said. I could be wrong and the S820 could be m...
ADVERTISEMENT