Snapdragon 835 stops by GFXBench: octa-core CPU, powerful Adreno 540 GPU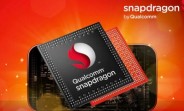 Qualcomm sort of announced the Snapdragon 835 last month but without going into specifics - Samsung will manufacture it on a 10nm process and it'll feature QuickCharge 4.0, that's about it. Good thing there's GFXBench to shed some light on the insides of the SoC.
For one, it packs an octa-core CPU, clocked at up to 2.2GHz. The current Snapdragon 821 has half the number of cores, 2 of them clocked at 2.35GHz, the other 2 capped at 2.2GHz. We can only imagine what a beast the future chip would be with 8 Kryo cores.
We don't need to imagine the GPU performance, GFXBench has the numbers right there for us. The Adreno 540 inside the Snapdragon 835 development board outperforms all current major players in the Android world, but also the iPhone 7 Plus. Only offscreen test scores (at a standardized 1080p resolution) have been measured though, and the tested specimen reports a QHD display, so these fps numbers will drop in the onscreen test.
GFX 3.0 Manhattan (1080p offscreen)
Higher is better
Snapdragon 835 dev. board
61.9
Apple iPhone 7 Plus
60
Samsung Galaxy S7 edge (SD820)
49
OnePlus 3T
49
Samsung Galaxy S7 edge (E8890)
40
LG V20
40
Huawei Mate 9
30
Meizu Pro 6
18
GFX 3.1 Manhattan (1080p offscreen)
Higher is better
Snapdragon 835 dev. board
41.5
Apple iPhone 7 Plus
39
OnePlus 3T
33
Samsung Galaxy S7 edge (SD820)
32
Samsung Galaxy S7 edge (E8890)
29
LG V20
29
Huawei Mate 9
22
Meizu Pro 6
11
It's probably worth mentioning that this is still a somewhat early stage in the development of the SoC, or rather - it's not yet its final form. Hence, actual commercial devices may behave differently from this development unit. Still, it's a good indication of what to expect come Spring.
G
you are wrong they can be used for a single demanding task too the problem is that android apps can be opened just with one core the only apps that push a device to the limit are benchmarks and emulators .
M
Not understand still got people compared with Apple A10.. Doesn't fair & no sense at all coz A10 built specifically for iOS.. If really want to compared.. let SD835 & A10 run on Android OS or both chip run on iOS than look which one is better...
D
The Snapdragon 821 is a quad-core, but has 2 little and 2 big cores, which can all be used at the same time(not by the same process though, they will have to switch between them). But you should always check the small letters, because the meaning of ...