Snapdragon 875 CPU beats Kirin 9000 in latest benchmark, but the GPUs are evenly matched
The first benchmark results from the Snapdragon 875 are looking promising. The latest info comes in the form of a Master Lu score sheet published by leakster Digital Chat Station, which was run on an engineering device (so, not a retail device).
Qualcomm is keeping the 1+3+4 CPU core layout and, interestingly, the Prime core is still running at 2.84 GHz – the same as last year and below the 3.09 GHz clock speed of the 865+ chip. The upgraded core design still delivered a higher result than what the original 865 achieved. It also beat out the new Kirin 9000 by quite a margin.
Master Lu (CPU)
Higher is better
Snapdragon 875
333269
Snapdragon 865
290169
Kirin 9000
275862
Master Lu (GPU)
Higher is better
Kirin 9000
344334
Snapdragon 875
342225
Snapdragon 865
294913
Master Lu (total score)
Higher is better
Snapdragon 875
899401
Kirin 9000
875308
Snapdragon 865
820220
However, the advantage of the Snapdragon chip doesn't extend to the GPU where it was matched by the Kirin. This is a battle between a Mali-G78 MP24 and the custom Adreno GPU designed by Qualcomm.
The overall score of the Master Lu benchmark goes in favor of the Snapdragon 875, in part because of the higher CPU performance, but the engineering device from Qualcomm also had 12 GB of fast RAM. The Huawei Mate 40 Pro had faster storage, though (the fourth score in the list).
The difference here is smaller than the AnTuTu score indicated. And do keep in mind that each phone maker may use different RAM and flash chips so the memory speeds seen in this bench will change when a real phone is tested.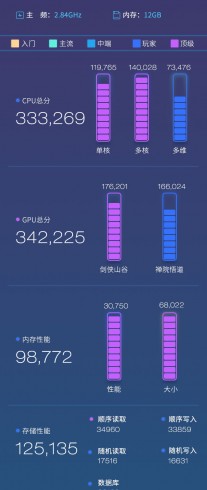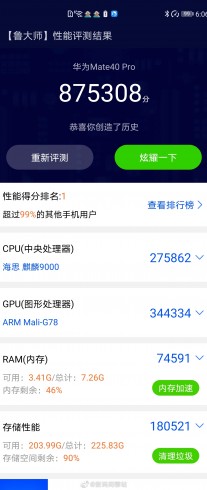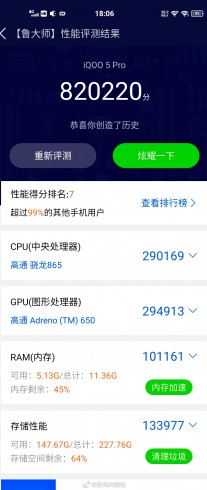 Master Lu benchmark results: Snapdragon 875 (engineering machine) • Kirin 9000 • Snapdragon 865
DCS has previously stated that Xiaomi has negotiated a timed exclusivity on the Snapdragon 875 chipset for China, which will be used to launch the Mi 11 flagship. The leakster also mentioned an overclocked 865, which runs the prime core at 3.2 GHz and is being tested by Oppo (tentatively dubbed "Snapdragon 870").
N
Huawei's kirin 9000 is the best
?
phone with chip relasing is different from chip releasing date!
ADVERTISEMENTS