Someone is selling early Pixel 3 XL units for $2000 on the black market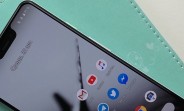 Earlier today, we saw full high-res leaks of the Google Pixel 3 XL including a full unboxing video, camera samples, and proof that the phone has wireless charging capabilities. A new report from 9to5Google pinpoints the source of these leaks: a Ukranian Telegram user that is selling these (possibly stolen) near-final Google Pixel devices.
Apparently, the Ukranian man's name is Luchkov and he's a blogger associated with an entity called Wyslacom Media – who happened to be one of the sources of the massive leaks from earlier today. A Telegram account watermarked on the leaked videos has been soliciting early Pixel 3 XL units for the amount of $2,000.
A pinned message on the Telegram account reads "Available on stock in England Limited amount!" While some may think this could be an easy way to scam folks out of two grand, a YouTuber offered his experience speaking to the seller and they were able to confirm they had the phones in their possession.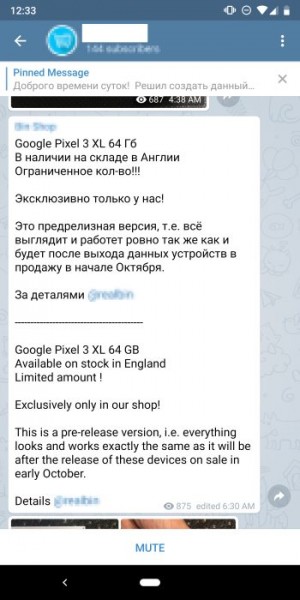 Source: 9to5Google
9to5Google confidently clarifies that the seller is certainly obtaining and selling these pre-production Pixel 3 XL devices on the black market and even infers that the same seller sold devices to some sources of previously published leaks of the phone.
We discourage anyone from trying to obtain a Google Pixel 3 XL from this seller. After all, Google will know exactly which ones are missing and might be able to remotely disable them, not to mention trace the units by serial number.
Head to the Source link to read the full 9to5Google report about the early Pixel 3 XL units on the black market.
R
This is hilarious... I cannot decide who is more stupid here... Google who allowed this to happen or the guy who stole the phones and sells them like this...
If you are YouTube vlogger and can do review before phones is being released, it's not that expensive at all. I would say it is cheap, since it is one of the most popular phones nowadays.
But for 2000? Sorry, but no phone is worth 2k, iOS or not