Someone modified the Samsung Unpacked app to show the Galaxy S9 in AR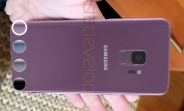 By now, we have a pretty good idea of what the Samsung Galaxy S9 will look like along with its assortment of pretty colors in full press renders. Today there's a more unique kind of leak, one that involves AR.
Samsung always releases an "Unpacked" app for its attendees to scan QR codes for entry and for the general public who would like to watch the event's live stream. Tucked away in the app is an AR feature that would let attendees view hints and teasers leading up to the event.
Well, an XDA-Developers member decompiled the app's APK and was able to extract 3D renders of the Galaxy S9. This would work by scanning an event pass in order to see a virtual phone in your hand but the app was modified to go around all of that and access to the 3D models was granted.
In these renders, we also see that slotted speaker port, like the one we saw in the render of the updated Samsung DeX, which would coincide with a newly tuned dual-loudspeaker system. Otherwise, we pretty much get confirmation on the Lilac Violet and Coral Blue color options, alongside the regular Black and Gray ones. Check out the source link for the full set of images.
All will be revealed this Sunday, February 25 where Samsung will take the stage in Barcelona to announce the Samsung Galaxy S9 alongside the Galaxy S9+. We are expecting to see a new revolutionary camera with a variable aperture and slow-motion capabilities with higher frame rates than what we're used to these days.
?
Looks really nice and I can't wait too see one real. Also a8 2018 I thought this would be in the UK shops by now.
d
phones can only be rectangular so i don't get the whole issue with people complaining about phones having the same design. what do you expect spherical or circular phones? come on be reaaaaaaaaaaaaaaaaaaaaaaaaaaaaaaaaaal. A day and age will come that...
b
Damn this is a nice looking phone especialy with those new colorways. I'm an S7 edge user but I think I'll wait fps onscreen from Samsung. I love the S8/S9 design language though.