June will be a busy month and now Sony has thrown its hat in the ring – "it is time for the next step" the company says in the invites it sent out, promising a look into the future. The invites are for an event on June 25.
There's not even a hint of what the star of the show will be, but Sony will announce more details later.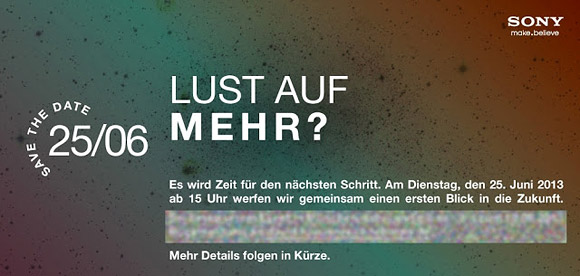 It doesn't hurt to speculate though. The Sony Xperia L4 Togari phablet is one option, with a 6.44" 1080p screen, which supports the use of pencils as styluses, a Snapdragon 800 chipset and Android 4.2.2 Jelly Bean.
Another name from the rumor mill is the Sony Xperia C670X, with a 4.8" 1080p screen and quad-core Snapdragon 600. Earlier this year we also stumbled on the Xperia C680X, but there's little info about it.
Of course, it could be something less exciting but we'll have to wait and see – and hope some more info slips out.
I would like to see a tabphone from Apple, not an iphone 5s
Yes, but only in certain models...and again did same as Iphone. While using a non removable Li Poly battery you save lots of space while creating a much higher capacity battery....yet even in HTC case Samsung was able to make a thinner phone with hig...
HTC One uses it too. If Sony will use a Li-Po variant of battery, I bet it will last longer than it can coz there is a Stamina mode that Sony has and if Li-Po is used underneath Sony's new flagship device, it will be a much better combo! Let's hope S...