Sony announces 22.5MP IMX318 sensor with built-in hybrid AF and 3-axis image stabilization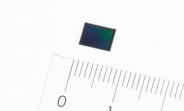 Sony has announced a brand new Exmor R sensor for mobile devices. Called the IMX318, it is the first stacked CMOS sensor with integrated hybrid autofocus and 3-axis electronic image stabilization.
The built in hybrid AF is the key feature here. Hybrid AF usually consists of more than one form of autofocus, usually contrast based AF and phase detect AF. Usually, a separate application processor was used for this purpose but the IMX318 is the first to incorporate both within the sensor's internal signal processor. Sony claims a focusing time of 0.03 seconds for stills and as fast as 0.017 seconds during 60fps video.
The other important feature is the integrated 3-axis image stabilization. The sensor can correct for pitch, roll, and yaw by taking the input from an external gyro sensor and processing it within its own internal signal processor. The internal processing also helps save on power compared to software processing in the external application processor. Moreover, the sensor can also correct lens distortion along with motion.
The IMX318 is a 1/2.6 type sensor with an effective resolution of 22.5 megapixels. The sensor has a pixel pitch of 1.0μm, which is smaller than its predecessor, the popular IMX230. However, despite the smaller pixel size, Sony claims there is no drop in image quality in low light situations.
The IMX318 should start making an appearance in high-end smartphones and other devices (such as drones) later this year.
N
Apple uses sony's sensors in their phone. The High megapixel setting is a choice. Having the camera use less lets groups of pixel resources work together on capturing light, hence why the lower megapixel apple phones work better in low light, but the...
That's nice, but making a smaller sensor with more mp means a worse sensor. They should had make a bigger sensor instead with less mp for improved low light photography. But no, Sony needs to market 22,5 mpixels on a ridiculously small camera sensor....
?
sony should improve their camera software even they use good sensor,their camera cant compete with the others .even with 1 mironmeter and large pixel their camera software are not good and the result are same just like z5.Also they have to drop the p...