Sony just went ahead and announced the latest additions to its Xperia lineup. The new Xperia acro S and Xperia go phones are water-proof and have increased protection against the elements, which includes a scratch-proof mineral glass on top of the displays.
Xperia acro S
The Sony Xperia acro S boasts a 4.3" HD Reality display with 720p resolution. The camera on the back uses a 12MP Exmor R sensor and has a f/2.4 aperture and records 1080p FullHD video. A 720p 1.3MP camera is on the front.
The display of the Xperia acro S is covered by a reportedly shatter-proof, scratch resistant glass of unknown make and it supports the wet finger tracking technology, similar to what we saw on the Xperia active.
Furthermore, the Sony Xperia acro S covers the IP57 rating requirements for dust and water resistance. If you don't have your IP certification manual on you, we'll just remind you that these certify the phone is protected against most dust and that it's good for short immersions (up to 30 min) in shallow water (up to 1m).
On the inside, the Xperia acro S has a 1.5Ghz dual core Snapdragon chipset and Ice Cream Sandwich will be on board right from the launch. There's 1 gig worth of RAM and 16GB of on-board storage (up to 11 GB user-accessible).
The location services offered by the smartphone's GPS are additionally augmented with support for the GLONASS satellite positioning system. The Xperia acro S also has an HDMI port and NFC support.
The Xperia acro S will be available in black, white and pink colors.
Sony Xperia go
The Sony Xperia go, or the Xperia advance as it will be known on the US market, has a 3.5" Reality display of 480 x 320 pixel resolution and a 5MP camera with 720p video recording.
Inside, there's a 1 GHz dual-core processor, 512MB of RAM and 8 GB of internal storage (up to 4 GB are user-accessible however).
The Sony Xperia go meets the IP67 rating, making it a real survivor of a phone. It offers the same protection against water immersion as the Xperia acro, but ups the protection by being totally dust tight.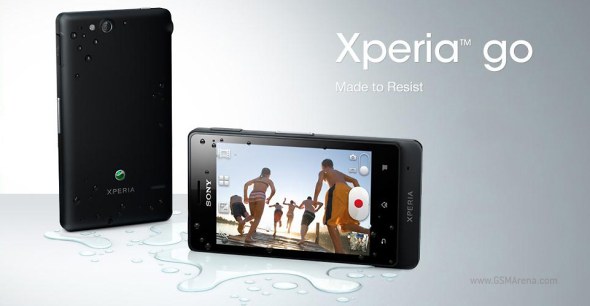 The software on this one is Android 2.3 (Gingerbread) but it should be upgradeable to Android 4.0 (Ice Cream Sandwich) later on.
The Xperia go will be available in black, white and yellow colors.
The Xperia go and Xperia acro S will be available worldwide from Q3 2012. Check out the official promo videos of the two devices over at our blog.
Source
c
can someone pls tell me where one can buy acro s in mum.which one is better?
X
hey guys...sumbody lemme kno wen the acro S is xpected to release in India... eager to buy very soon...!!!
v
check this pics out** http://www.gsmarena.com/showpic.php3?sImg=reviewsimg/sony-xperia-go/gal/gsmarena_007.jpg&idPhone=4782 http://www.gsmarena.com/showpic.php3?sImg=reviewsimg/sony-xperia-go/gal/gsmarena_010.jpg&idPhone=4782
ADVERTISEMENTS