Sony Xperia U
The Sony Xperia U is smaller, with a 3.5" Reality screen of FWVGA resolution. The U packs only a 5MP camera but shoots 1080p video nonetheless. It uses an Exmor R sensor.
There will be a Smart Headset in the Xperia U box. It features in-ear plugs and tangle-free cables, plus a so-called SmartKey that can be set to launch any app.
The Xperia U has an illuminated transparent strip like the others in the new Xperia line, but the color of the backlight changes to match the wallpaper color. We took some time to photograph the various colors of the transparent strip, check them out!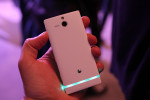 Sony Xperia U has cool backlighting
It's not just the backlight color though - the bottom plastic is interchangeable and you get a pink and yellow ones in the box if the default black one is too ordinary for you. Here's how you can exchange the plastic at the bottom:
The Xperia U also runs on Android 2.3.7 Gingerbread, but Ice Cream Sandwich is coming later this year as well.
We also recorded a short hands-on video with the Sony Xperia U, check it out:
And here's the one we took right after the Sony press conference.