Sony is preparing the announcement of a new mid-range smartphone with a model number C190X. A photo taken with said phone has been posted to PicasaWeb, but, sadly, it doesn't reveal much about the upcoming phone.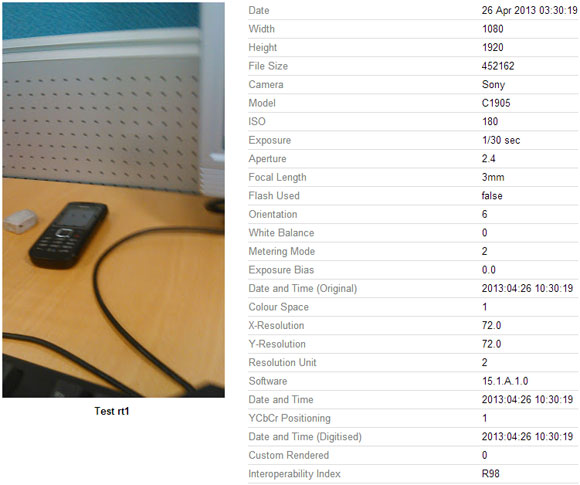 All the EXIF info of the photo reveals is the software version - 15.1.A.1.0. Judging by the model number, C190X (X is a number that varies for the different regions), Sony has destined the device to sit in-between the lower mid-range Xperia E and the not-so-long-ago announced Xperia L.
Don't get your hopes up though, as this is definitely not the device that's carrying the rumored Sony Honami camera sensor.
The company has been doing quite well with its Xperia Z flagship, with analysts estimating 4.6 million units flew out of the shelves in just 40 days. As a result, the company is having a golden chance to cash in on its success, so, apparently, it's looking to take the mid-range smartphone market by storm.
Expect more information on the Sony C190X as it gets available.
k
then u must see sony xperia SP it fits ur requirment
N
Well brother what are you asking for is alternative of iPhone 5 well let me tell you there is only one company that does that and it's a guess for you, I think you know the answer :)
m
hoping sony wl make a stronger screen ths time, xz screen is of so low quality. . :(
ADVERTISEMENTS