About a week ago a Sony C650X 'Odin' leaked through its User-Agent profile with speculations that it will be the next Xperia flagship. Not much info was available on it, but a new Sony smartphone has leaked now, and this one has a higher model number.
The Sony C6603 'Yuga' (the final digit of the model number indicates region, so we'll call it C660X) made an appearance in AnTuTu's database. The benchmark lists the OS as Android 4.1.1 Jelly Bean and the CPU clock speed as 1.5GHz (but no GPU info).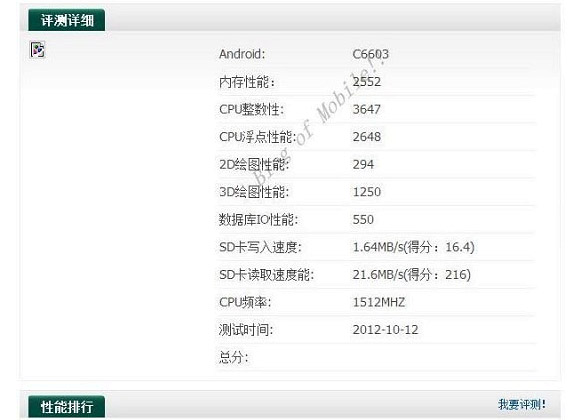 The total score the Yuga managed is 11,321. For comparison, an Xperia T (Snapdragon S4 Plus, dual-core Krait @ 1.5GHz, Adreno 225) does 8,270 and an LG Optimus G (Snapdragon S4 Pro, quad-core Krait @ 1.5GHz, Adreno 320) scored 13,643.
The Sony C660X 'Yuga' is certainly closer to the S4 Pro chipset than the S4 Plus, particularly in the CPU and RAM scores. The GPU scores of the Yuga and the Optimus G are virtually identical, though the Xperia T scores the same too, despite its older GPU.
Still, it seems very likely that the C660X is packing a Snapdragon S4 Pro chipset (the APQ8064 is the one used most commonly). Here's hoping we get scores from other benchmarks, NenaMark for example lists the GPU model - if it's Adreno 320, then the chipset will certainly be of the S4 pro variety.
D
Yeah, with that specs it easily is. But, OEM engineering is what makes the difference. I'll check out the LG Optimus G anyway. Although, I won't buy any new smartphone till next year... Hoping to be amazed at the Xperia Odin or Yuga :) And I tr...
D
Yeah right !! And they should also make it for INR 1,40,000 & above right?? Get off ur high horse & learn ENGLISH first & then spout ur bullsh*t here :)) [Think realistically for 2012, 2013 smartphone specs]
ADVERTISEMENTS