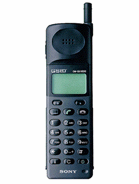 B
My god,it`s my telephone,favorite telephone!!!!! Please,i whant one of this model,PLEASE...I`m serious,please,send it to me.It`s very good mobil.Iulian.
e
i have one of these phones for sale at a low price.who is interested in buying it e-mail me.i sell it with desktop charger ,in his original box.
f
the phone is great, and 'tosser' obviously is. And he would probaly rather take it up the ass than win a holiday.
s
I bought this phone this year, for a second pre paid phone number, and i love it. I believe it's more reliable than my other Panasonic GD 92 dual band.
Z
hellou
if you have eny think to help me to open cod of this cinde of mobilies becoase my doughter clost...
i cant open phone code on this mobiles.
thanks very much.
Total of 95 user reviews and opinions for Sony CM-DX 1000.