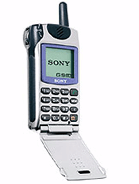 M
Another messed up Sony. They all work the same and they all suck. The only good thing is the answering machine. There's no FUN in using a SONY phone and nowadays thats very important.
M
bout as useful as a turtles dove nose dick i hate it i dont like it it doesnt work and i would rather carry a radiator in my pocket
d
i like this phone but can't seem to find a site for the ringtones can any one please help with this please
L
Hi!
I can not use the Wap function with my z5 in Hungary /because I'm Hungarian/. Why do you think I can not use it. Please answer because I would like to use it very much. I expect your answer.
Thank

h
hi sir ...
can you help me please ...
can you send me program for sony z5 ..
setup - picture inside - manual ...

please sir ...
i writing this letter from kuwait ...
iam waiting you
bye

K
This is one of the best phones that Sony has come up with so far since they've tried penetrating the GSM handset market.

Whilst using the slim battery, the Z5 is a very good phone to go around with. Unfortunately, with every slim battery, you cannot really get a lot of hours out of it. Max standby for me was around 2 days. The standard battery was somewhat more combersome and took away its "good looks".

The jog dial is good and bad - good in the way that it gives one another way of accessing the phone's features/functions, and bad that the navigational properties gets confusing depending on which menu level you are on.

The voice memo (built-in answering machine) is a godsend for those people who do not like the inconvenience of voice mail - but who do not want to miss calls.


Good points:
Lightweight, easy to carry and use, built-in answering machine, jog dial convenience, built in IE browser + WAP + POP3 email client

Bad points:
T9 input very slow (compared to Nokia's T9 system), jog dial system somewhat confusing to use (up-down determination)
Total of 215 user reviews and opinions for Sony CMD Z5.