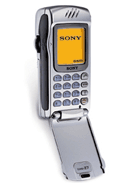 G
Can any one please tell me where can i find the english manual for the CMD-Z7
N
Can't vibrate & ring at the same time!
You can set ringer volume either too high or too low. Sony lied about software for connecting phone to PC - they haven't got it!
@
ahh yes i was forgeting it is a very very fat phone also this phone also
@
i had one the good points are;
the screen is very good very big almost as big as the one of z5 or even more) the buttons are bigger and so it is more comfortable to righ sms
the new jogdial is good but it seems to be fragile ...
the bad points:
the ringtones are poor , they dont ring at loud at all , the vibration alert is like there was no vibration
the amber backlight is not my style
SO IF YOU CANNOT EVEN KNOW WHEN SOMEDY CALLS >YOU WHY DO >YOU BUY THIS PHONE ???!!!
the games are very very bad so no comment
ask me other things you want to know

nb: i changed my z7 because i had enough of it !
M
I have had loads of mobiles, almost every good one on the market right now, but at the mo I have a T68. However, I feel the best phone Ive ever had was my Z5. Is this any better and has anyone actually got one or used one...is the screen bigger and is the phone itself much bigger?

Please let me know asap.
s
sony don't make me laugh panasonic kicks sony's ass if u want a better phone than this buy a panasonic phone or motorola
m
superb phone i have it since 2 days i can say to you that i love it i firstly wanted to wait for ericsson t65 but i felled in love with sony the menu is just incredible before i had a nokia 8210 i can say to you that sony rules with ease !!
w
i think that this is a nice fone BUT its far to thick! sony made a fne before that which was the z28 and that was 18mm thick....and y is the new sony so thick, i can understand cos that there is no antenna but that shouldnt made it much of a proplem should it?!?! raahhhhh..........
E
Another very neat set from Sony....but another big disappointment too - for all the impressive Gizmos the phone lacked INFRA-RED port...when will Sony learn. I was a Sony fanatic before (Used a CMD-Z18), and now I am not. I blame Sony for forcing me the painful switch to a different brand just because I needed an Infra-Red phone. Some models which are much more primitive than Sony at least took the trouble to equip their handsets with Infra-Red. Please Sony, open up your eyes!...
Total of 255 user reviews and opinions for Sony CMD Z7.