Sony was off to a rocky start ever since it shed itself of the Xperia Z series to give birth to a new category of devices that would be known as "Premium Standard". The Xperia X didn't do very well given its price point, choice of processor and lack of features from the Xperia Z lineup.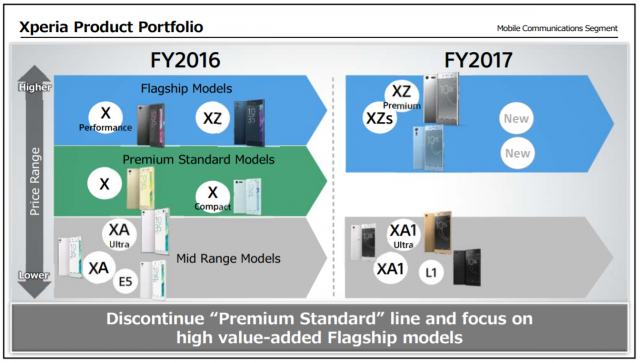 Yesterday's Sony IR (Investor relations) Day has seen the company confirm that it will no longer be making smartphones in the ~$500 price range or what it calls its 'Premium Standard' category of smartphones. From now on, Sony will only focus on the midrange XA lineup and the flagship Xperia XZ models to recover from lost market share.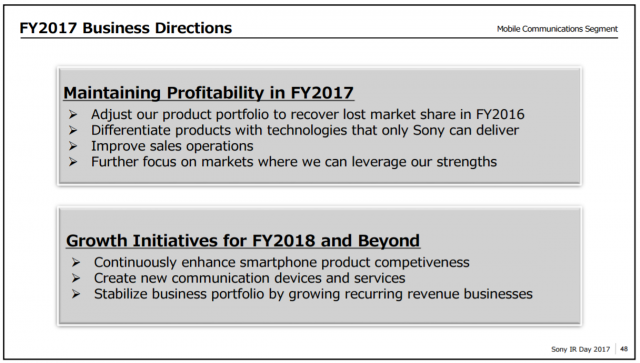 Sony is still looking to do well in the North American market, though also admits it will take a huge investment to do so. We saw Sony selling smartphone through the e-retailer channel, which is really difficult to succeed from in the intended price range, particularly in the US where the vast majority of customers buy their phones through a mobile carrier store.
a
Also Sony is getting worse with naming. They could totally do L for low budget, X for midrange and Z for flagship Now it's too late, if they change again users will @@ sony what the?!
a
I really liked Xperia X tho... the initial price was bad, but it soon dropped deep (since no one buys it), and then it's good value. Sony should figure out why it's not selling the super midrangers well. That is wtf pricing Damn I was looking fo...
S
Yeah the x and x compact dropped about $150 from the launch price and were good value after that. They just got reviewed at rrp.