This article is outdated. We have already published a full review.
Camera interface
The only way to control the camera menu is by touch again and unfortunately in our prototype it didn't quite work. But according to the press information, the Aino should be able to take 8 megapixel photos and - finally - capture VGA video at 30 fps.
The interface is similar to some other touch camera UIs by Sony Ericsson - the ones on Sony Ericsson XPERIA X1 or Sony Ericsson G900, for instance.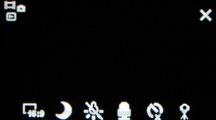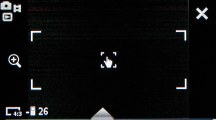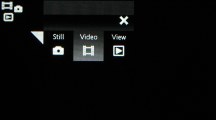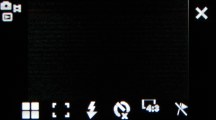 The camera and camcoder interface
Full pack connectivity
Fortunately, the Aino sports Wi-Fi connectivity plus DLNA. Connecting to our access point was hassle-free.
Then, there is also the integrated GPS receiver with Assisted start. The navigation software, which comes with the Aino, is the usual Wayfinder Navigator (but Google Maps 3.0 is on board as well).
Web browsing is a treat with the latest NetFront 3.5 browser
The web browser preinstalled on the Aino is the same as Yari's - an updated version of the popular NetFront 3.5 mobile browser. It offers a much smoother experience than before and renders web pages more quickly. Almost every time it nails the zoom level for comfortable reading.
Equipped with the well-known mouse pointer, the new NetFront 3.5 web browser always operates in fullscreen mode and the four most important features are easily accessible on a toolbar - mini-map, enter an address, favorites and downloads.
Additionally, we spotted some other new features as well such as mark-and-copy, allowing you to copy text off web pages and the added Flash support (which unfortunately doesn't really relate to Flash video watching).
Conclusion
Well, the Sony Ericsson Aino surely did surprise us. The very concept of it is so unlike Sony Ericsson. You've got a huge touchscreen, 8 megapixel camera, Wi-Fi, GPS, plus all the other well-known goodies. We've gotta say that the microSD card support is more than welcome too.
No longer do you have to choose between a Cyber-shot and a Walkman, and no longer should you check out the competition when decent video recording is a must. It seems that Sony Ericsson are changing their game plan and thus maybe even changing the game itself.