Phonebook has no changes
The phonebook has space for 1000 contacts and 7000 numbers. You can choose to view contacts in the phone memory or on SIM, but not both. Either way you can set up the phone to autosave to SIM all contacts that are being saved to the phone memory. You can also back up the entire contact list on the memory card and restore it from there.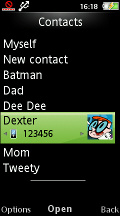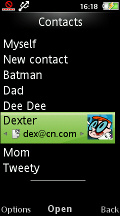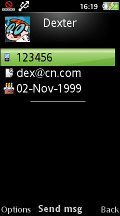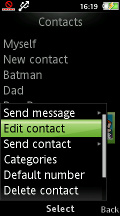 The Sony Ericsson Aino phonebook
Editing a contact employs a tabbed interface that's been heavily used on Sony Ericsson handsets in the past couple of years. There are five tabs that group related contact details. The first tab is for names and numbers, next up is web addresses such as e-mails and URLs. The third tab is for storing a picture, a custom ringtone, group, message tone and voice command, the fourth is for postal details and - finally - the fifth has fields for a note and a birthday (which you can add to the Calendar too).
The name of the contact is written in only one field, but you still have the option to order contacts by first or last name. The phone guesses which is which and it does it quite well. Naturally, you can search the contacts by gradual typing.
Wireless telephony is a nice option
Handling of calls is excellent and we didn't experience any voice quality or reception problems with the Sony Ericsson Aino. Call clarity is great in both the earpiece and speakerphone.
If you prefer to use the Bluetooth headset, you might have some trouble finding the right place to clip it. The microphone placement on the Bluetooth remote is not perfect and it may not always pick up your voice right. But once you discover the best position you'll have no further problems. The reception is good, you can go up to four or five meters away from the handset without signal loss. The voice quality is very good, so nothing to worry here either.
Sony Ericsson Aino offers video calling, but since there is no front-facing videocall camera, it's more like video sharing - meaning that you can see the other party on your display but you can only share what your rear-facing primary camera "sees".
Smart dialing or "Smart Search" as Sony Ericsson call it, is a great boost to usability. It looks up contacts whose numbers contain the digits you have typed or whose names begin with the corresponding letters.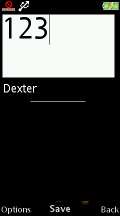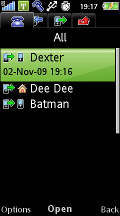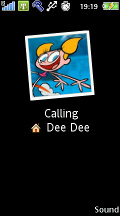 Smart dialing makes life easier • Call log • Making a call
The tabbed Call Log application should be familiar too if you've used a fairly recent Sony Ericsson handset. It displays in four tabs, including All, Answered (Received), Dialed and Missed. When there are several calls made to or from a single contact, only the last one gets displayed.
We did our traditional speakerphone test with Sony Ericsson Aino. The maximum volume was a bit disappointing and the device scored barely made it past the good mark.
Usually a Good mark in our test guarantees OK ringing volume levels. However we noticed that the music player playback volume is subjectively lower than the one from the ringer on incoming calls. So just bear that in mind if you'd like to use the Aino as a portable jukebox - it will barely cut it.
Here is how it compares to some of the other handsets we have tested. You can find information on the actual testing process, along with the full list of tested devices here.
| | | | | |
| --- | --- | --- | --- | --- |
| Speakerphone test | Voice, dB | Pink noise/ Music, dB | Ringing phone, dB | Overall score |
| Sony Ericsson C905 | 65.7 | 66.1 | 73.8 | Average |
| Sony Ericsson Aino | 66.5 | 66.2 | 75.9 | Good |
| Samsung S8300 UltraTOUCH | 70.1 | 66.7 | 75.8 | Good |
| LG GD900 Crystal | 73.2 | 71.6 | 73.5 | Good |
| Samsung M8910 Pixon12 | 75.7 | 72.8 | 77.3 | Very Good |
| HTC Touch HD | 77,7 | 73,7 | 76,7 | Excellent |
Perfect messaging
Typical of the latest Sony Ericsson phones, the Aino sports the threaded message view. SMS to and from a certain contact is organized in speech bubbles much like in an instant messenger.
Switching between the conversation-style layout and the regular Inbox is only a matter of toggling a tab.
Another interesting fact is that if you get a reply while you're still in the thread, it will be automatically added to the conversation, instead of appearing as an alert on the home screen.
Along with the standard messaging functionality, Sony Ericsson Aino offers the proprietary Manage Messages feature, plenty of settings for accounts and the option to assign categories to messages.
The Manage Messages application enhances message handling. Messages can be moved to memory card or phone memory, arranged by categories, date, size, and contact. Categories also allow quick and comfortable sorting of messages with separate folders.
There is also a rich T9 dictionary. The SMS and MMS messages share an editor; when typing SMS you can easily convert it into an MMS via the options menu or using the attach-stuff toolbar below the text box to insert images, animations, videos or sounds.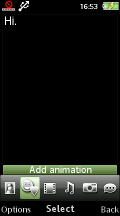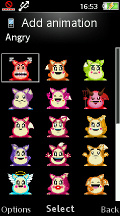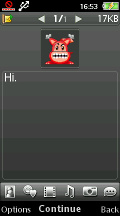 Converting an SMS into a MMS is just as easy as it gets
The phone automatically downloaded the settings for our Gmail account. The options to view messages full screen and change font size really helped get a lot of text on the screen. Even at the smallest font setting text remained legible.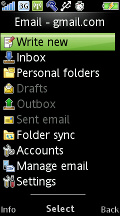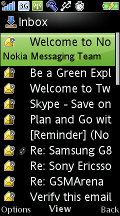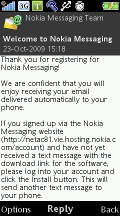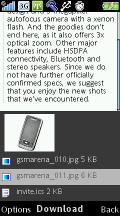 The comfortable e-mail client with some of the options
For email you get the Manage Email feature, which has the same functionality as the one for text messages. Saving attachments is problem-free, even if the phone doesn't recognize the file type.
Unfortunately, the Sony Ericsson Aino (much like all other Sony Ericsson feature phones) can't preview any documents including the ones attached to emails (such as .xls, .doc, or .pdf files for example) due to the lack of any document reader.