Sony Ericsson has just announced two new mini additions to the Xperia family – the Xperia mini and the Xperia mini pro, touting them as the smallest HD smartphones in the world. The two Mini devices feature Sony's Mobile BRAVIA display engine and Sony Ericsson's custom four-corner Android UI with Timescape.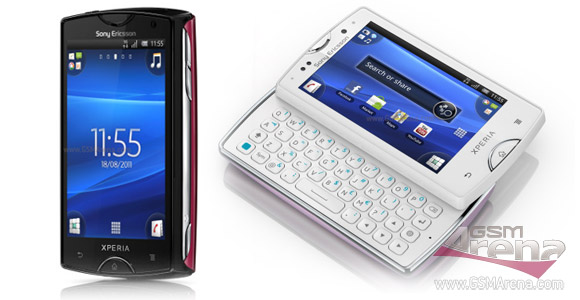 Both the Sony Ericsson Xperia mini and Xperia mini pro get their power kick from 512MB RAM and 1GHz Snapdragon processors (QSD8255 for the Xperia mini and the MSM8255 for the Xperia mini pro). They also share the same 3-inch TFT touchscreen with a resolution of 480x320 pixels.
The two Minis brag the same 5 megapixel snapper with LED flash at the back. Plus, their cameras are capable of shooting 720p HD video.
In addition to these decent specifications, the Sony Ericsson Xperia mini measures at 88 x 52 x 16mm and weighs in at just 99 grams. The phone also comes with 320MB of internal storage expandable up to 32GB with a microSD card.
As you've probably already guessed what makes the Sony Ericsson Xperia mini pro different is the sliding QWERTY keyboard. As a result it weighs 136 grams and packs 400MB of internal memory. But don't worry, microSD card support is still present.
The Mini pro has another trick up its sleeve – a scratch resistant mineral glass screen.
Both phones come in variety of colors, Black, White and Pink. The Xperia Mini has a special Blue color version, while the Mini Pro has a Turquoise one.
The Xperia mini and mini pro share the same 1200mAh battery.
The devices are expected to hit the market in August this year, but as usual, at this time it's too early to talk about pricing.
Check our blog to see the Xperia Mini and Xperia Mini Pro promo videos.
R
I love my Xperia phone, but I do not like its extremely short battery life...
v
this is amazing phone he have phone led flash,hd,andirod,perfect camera,loud sound,really amazing.
D
The best Android Gingerbread 2.3 version gadget with 5MP camera performing equal to 12 MP camera of others. First HD video shoot in its range. Value for money costing around IRS 15,500/- approx., Having front camera to have skype. Wi-Fi downloading ...
ADVERTISEMENTS