A press release graced our inbox and we were pleasantly surprised at what it said - the Sony Ericsson XPERIA X8 is official, Sony Ericsson dusted off the Walkman brand with the Yendo and finally, the Sony Ericsson Cedar joins the GreenHeart ranks.
As we've already heard Sony Ericsson now reconfirms it's working to bring Android 2.1 to their XPERIA X10 lineup, while the the big X10 should get 720p video capture too. These updates are coming in Q3 this year.
The Sony Ericsson XPERIA X8 is like a grown up X10 mini. It features a 3" HVGA (320 x 480) screen with a scratch resistant surface, a 600MHz CPU running Android 1.6 with the same customizations that the X10 mini has and Timescape too.
The camera on the Sony Ericsson XPERIA X8 is a 3.2MP snapper and the phone comes with a 2GB microSD card in the box. As far as connectivity goes, it offers quad-band GSM/EDGE, 3G with HSPA, Wi-Fi, Bluetooth and GPS.
According to GSMHelpDesk, the Sony Ericsson XPERIA X8 will run for 259 euro.
Next up is the Sony Ericsson Yendo with Walkman. In terms of design and size, it's very similar to the XPERIA X10 mini (though it's 10mm taller at 93.5 x 52 x 15.8 mm and 81g). Although it appears to have the same UI as the X10 mini, it's actually running a proprietary Sony Ericsson OS. The screen on the Yendo is a 2.6" QVGA TFT unit.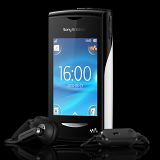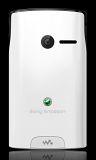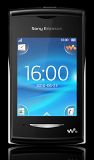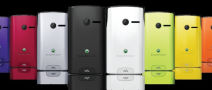 The Sony Ericsson Yendo phone with Walkman
The Yendo features a touch-enabled version of Sony Ericsson's excellent Walkman interface along with Facebook, Twitter and Orkut integration. The Sony Ericsson Yendo is more like a Walkman with phone functionality added, so its specs are not very exciting in phone terms - dual-band GSM/EDGE, 2MP camera, Bluetooth with A2DP, FM radio and a 3.5mm audio jack.
Finally, the Sony Ericsson Cedar is from the GreenHeart line, complete with the Human Curvature design and recycled materials. It weighs just 84 grams and it features quad-band GSM/EDGE, 3G with HSDPA, a 2MP camera that can record VGA video at 30fps.
The Sony Ericsson Cedar boasts Widget Manager 2.0, which gives you access to social networks right from the homescreen.
The Sony Ericsson XPERIA X8, Sony Ericsson Yendo and the Cedar are scheduled for release in the third quarter of this year.
?
whats meaning G and E up screen W150i
?
Bought a SE Cedar last year, but started using it recently. Solid feel and looks but the battery drains out in a day, just by staying switched on. NO Talk. Is the battery life that poor or something wrong with my phone. Need to charge it everyday. St...
H
I bought a Sony Ericsson Cedar yesterday and plugged it in to charge the battery. Now after 24 hours it still says "charging". Does it ever finish charging and say "charged" or do I have to decide it is charged and unplug it while...
ADVERTISEMENTS