Tree-hugging business
Sony Ericsson Aspen review: Tree-hugging business

A really good phonebook
The phonebook, favorite contacts and the call log on the Sony Ericsson Aspen share one window in a tabbed interface – just like they did on the XPERIA X2. All of them are touch optimized and use big enough fonts.
The phonebook supports Smart dialing. Start typing on the screen, the phonebook automatically launches and searches the contacts list accordingly.
Contact info is displayed in a very simple and easy to read manner. You have the contact picture at the top and all the contact details underneath, everything stylishly dressed in black with white fonts and nice icons. It did work better on the vertical screen of the XPERIA X2, the landscape screen of the Aspen fits just a few rows.
Unfortunately, editing or adding a contact throws you back into the old WinMo skin. At least you still have a plethora of available info fields - and if by any rare chance those are not enough, you can always rename some of the existing fields and use them instead.
One interesting bit that the Sony Ericsson Contacts app has over the stock WinMo one is the option to call a contact or send them an SMS message via Skype. This would really come in handy when travelling abroad – all you need to avoid roaming charges is some Skype Out credit and a wireless hotspot.
The SPB Mobile shell panel has an alternative Contacts app. If lets you add favorite contacts as shortcuts of various sizes, link contacts to their Facebook account and snatch contact photos from there.
Telephony is great
The Sony Ericsson Aspen does very well at its main job – making calls. In-call sound is loud and the reception is quite strong, even though the network indicator tends to show less bars than it should.
As we already mentioned, the Aspen supports Smart dialing. It's active straight on the homescreen so you won't be using the Phonebook very often.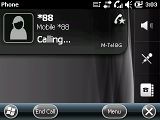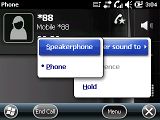 Placing a call on the Sony Ericsson Aspen
The call log is pretty standard, just like every other Sony Ericsson. If you select an event you will be redirected to a more informative window with call duration and options for call and text.
There's no proximity sensor to lock the display during a call – but since the display is not a capacitive unit, the accidental presses are rare.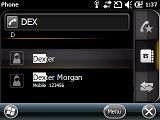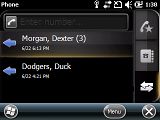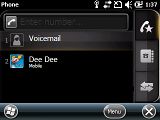 Smart dialing and call log • favorite contacts
We also ran our traditional speakerphone test to round off the phone part of the Aspen review and it scored a Good mark.
More info on our test can be found here.
| | | | | |
| --- | --- | --- | --- | --- |
| Speakerphone test | Voice, dB | Pink noise/ Music, dB | Ringing phone, dB | Overal score |
| Nokia E66 | 66.9 | 66.1 | 66.8 | Below average |
| Sony Ericsson Vivaz pro | 69.2 | 65.6 | 72.6 | Below average |
| Nokia 5730 XpressMusic | 68.7 | 61.7 | 75.1 | Average |
| Sony Ericsson Aspen | 71.0 | 66.6 | 75.7 | Good |
| Palm Pre | 71.3 | 68.0 | 80.3 | Very Good |
| LG GW300 | 78.2 | 75.7 | 77.6 | Excellent |
Messaging has pretty skins, all WinMo underneath
There are a handful of ways to get to your inbox (SMS or email). Perhaps the most convenient is the email and SMS shortcuts on the screen which show the number of unread messages.
Another way is the Slide View menu, which is the same as the XPERIA Shortcuts menu on the Sony Ericsson XPERIA X2. From there you can run the SMS/MMS or Email applications. Unfortunately this is where the custom UI ends and the stock Windows Mobile begins.
The Sony Ericsson Aspen supports SMS, MMS and email. SMS and MMS share an inbox and a message editor. Threaded SMS is also available of course.
There are two special types of MMS – the Voice MMS, which is a handy way to record a memo and sent it to someone, and Location message, which sends an SMS with a link to Sony Ericsson's site. The page shows a map with your current location.
Setting up your email is easy as it gets. You type your username and password and all the other fiddly options are configured automatically.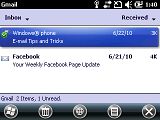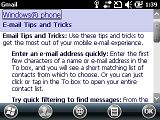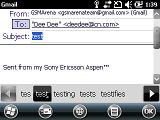 Browsing the email inbox • reading an email
The Sony Ericsson Aspen offers a few features to save you from embarrassing mistakes. Check Names looks at the To field to make sure the recipient's name and number or email address are typed correctly.
The other feature is Spell Check – which does just what it says. Funny though, it didn't have either Ericsson or Aspen in its dictionary, which makes for two spell errors in the default "Sent from my Sony Ericsson Aspen" signature. You can easily add new words to the dictionary, so the problem is quickly resolved.
There are more spell checking options – you can activate spell correction as you type, which offers advanced features like Next word prediction auto-append and auto-substitution. Auto-substitution for example offers a list of substitutions – you can for example set "brb" to display as "be right back" and keep "SMS-speak" speed without sounding like a 13-year old.
There's one more way to view messages that we'd like to mention. The 3D Message Viewer form the Messaging section in the Launcher shows a 3D stack of messages (it works for either SMS or email) that is good eye candy and reminiscent of the Sense UI way of displaying messages.