Tree-hugging business
Sony Ericsson Aspen review: Tree-hugging business

Image gallery looks cool, but runs slow
You can use the default Windows Mobile image gallery if you really wanted to, but you'd be better off pretending that the Sony Ericsson one is the only one available. It is available from the Slide View menu.
You use sweeps to navigate around the images. If you tap on screen you also get zooming and slideshow controls. You can only zoom using the virtual zoom keys – double-tapping and other zooming methods are not supported. The gallery is not very fast, but it's fairly responsive.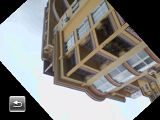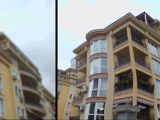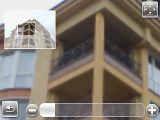 Rotating, browsing and zooming into images
A basic music player
You can find the embedded music player into the media menu and it's very similar to the Walkman player in the Sony Ericsson's feature phones and can handle playlists, filter your tracks by albums, authors, etc. Album art is supported, but unfortunately there are no equalizer presets, stereo enhancements or visualizations.
Its design matches the whole Slide View menu and looks good, but this beauty doesn't completely disguise the rather basic functionality. While there's a song playing, a small note icon appears at the bottom of the screen – tapping it pulls out a panel with the music player controls.
While this is good, it's only visible in the Slide View menu – so, you can't control the music player from the homescreen or other menus.
The sound coming out of the loudspeaker on the Sony Ericsson Aspen is pretty loud and doesn't get muffled even on even surfaces.
FM radio works just fine
The Sony Ericsson Aspen comes with an FM radio receiver and a relevant app. The UI is simple and easy to work with and it has a slide-out panel like the music player.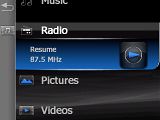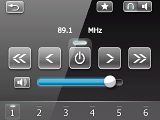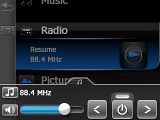 The FM radio has a slide-up control panel too
The TrackID app will help you find info about the song they're playing at the cafe', for example. It just needs to sample a few seconds of the song and consult with the TrackID servers.
Video player supports DivX/XviD, low-res videos only
The Video section of the Slide View menu offers good support for video codecs – it played our test DivX/XviD and MP4 videos. However, the hardware wasn't quite up to the task – anything over QVGA resolution suffered dropped frames.
Not that there's a point to play videos with larger than QVGA resolution on a 2.4" QVGA screen, but it still means you have to re-encode your videos to watch on the Sony Ericsson Aspen. Sony Ericsson Media Go will probably help in this respect.
Audio quality is decent, but the volume is low
The area where we didn't really expect the Aspen to impress was audio quality. However the smartphone surprised us by providing nice clean output, which considering that it hasn't hit the shelves yet might improve even further.
Of course it's not all roses as the Aspen is the quietest handset we have seen so far and the extreme bass frequencies have been cut-off but that's about all the things that are wrong with it. The rest of the scores are decent and should suffice to satisfy the eventual customers' needs. Frankly, we just can't see many audiophiles going for the WM-powered device.
Cutting to the point - here go the results so you can see for yourselves.
| | | | | | | |
| --- | --- | --- | --- | --- | --- | --- |
| Test | Frequency response | Noise level | Dynamic range | THD | IMD + Noise | Stereo crosstalk |
| Sony Ericsson Aspen | +0.12, -1.11 | -79.5 | 82.5 | 0.025 | 0.082 | -79.8 |
| Nokia E72 | +0.05, -0.26 | -88.3 | 88.2 | 0.012 | 0.024 | -88.8 |
| Sony Ericsson Vivaz Pro | +0.37, -1.91 | -88.0 | 87.4 | 0.0099 | 0.129 | -88.7 |
| BlackBerry Bold 9700 | +0.25, -3.62 | -89.8 | 87.8 | 0.014 | 0.023 | -88.6 |
| Nokia E75 | +0.11, -0.91 | -91.6 | 91.4 | 0.012 | 0.462 | -73.3 |
| Sony Ericsson W980 | +0.31, -1.25 | -86.0 | 89.4 | 0.037 | 0.828 | -86.3 |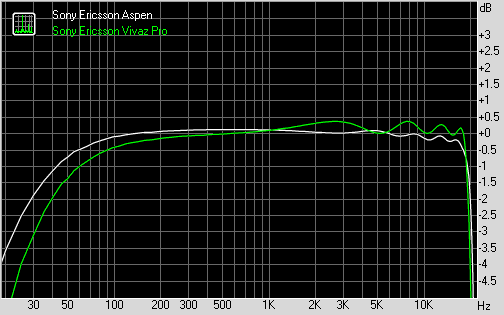 Sony Ericsson Aspen vs Sony Ericsson Vivaz Pro frequency response graphs
You can find more info about the testing process here.