User interface spiced up
The user interface in C902 has the well known Sony Ericsson feature phone styling, spiced up with a few new features. Typical hi-end cameraphone, C902 puts the rich photography and multimedia capabilities up front. When it comes to multimedia, the new Cyber-shot products are catching up quickly with the Walkman lineup.
The first thing to mention though is the changes (seen on a few other Sony Ericsson phones like the W980) to the main menu structure. Except the traditional 4 x 3 grid matrix, the main menu can now be diversified with a couple of alternative views: rotating and single icon view.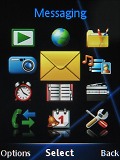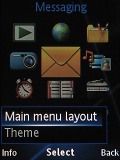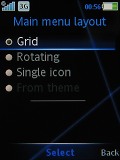 Setting up the main menu layout
The rotating view shows three animated front icons on the display, the center one showing the active selection. The other two icons are half-hidden, just as an indication of what comes next. Five other menu icons can be seen in the dim background.
The icon view displays a single icon at a time and a vertical bar with position mapping. Neither of those view modes works with shortcut keys. Only the Grid view allows quick numeric keypad access - a good enough reason to forget about the other options once you've tried them.
The other obvious change is icon animation, bringing notable visual modification.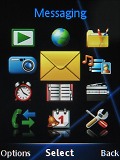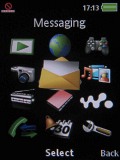 The new and the old animated icons compared
The lowest row of icons has mirror effect but some of the transitions we saw in the first beta unit are now strangely missing.
As most previous models, the C902 comes with a dedicated Flight mode. When turning on the phone, you may opt to start it directly into Flight mode. The Sony Ericsson G502 cannot work in Flight mode unless a SIM card is inserted though, unlike competing Nokia S40 models. The other irritating thing is that toggling the flight mode requires a reboot of the phone.
Sony Ericsson C902 supports Flash Lite themes; even some of the preinstalled themes are Flash-based. They change not only the color scheme and the wallpaper, but also the menu icons themselves.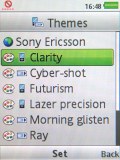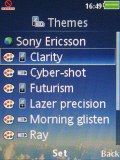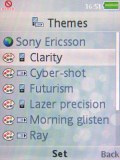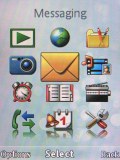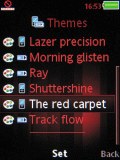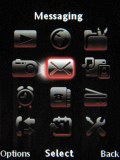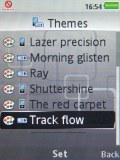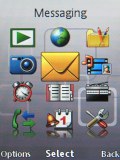 Some of the preinstalled themes
The C902 features the well-known Activity menu, which is a really handy, especially for a feature phone. The Running Apps tab of this menu offers basic multi-tasking - for example you can run two Java applications and listen to the radio or to the music player simultaneously.
The Activity menu also offers quick access to recent events, the web menu and the My Shortcuts menu which contains a list of favorite features and can be modified to the user liking.
The TrackID service is present here too, and is found in the My Shortcuts menu, in addition to its original location in the entertainment menu. The service itself has seen changes too. The updates include "Find similar Music", "Send music info via SMS", "TrackID charts" and a very extensive "Artist info" section.