Phonebook offers plenty of space
Sony Ericsson C902 is equipped with a phonebook that can store up to 1000 entries with a total of 7000 phone numbers.
Contacts can be ordered by First or Last name. They are searched by gradual typing of the desired name. You can choose whether the SIM contacts or the phone contacts should be displayed by default. Unfortunately, there is no option for displaying both lists simultaneously. A cool feature of the phonebook lets you auto save to SIM card any new contacts that you're adding to the phone memory.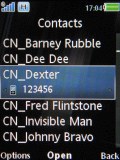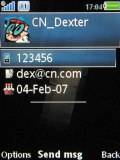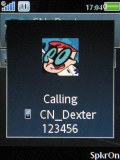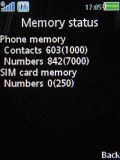 Sony Ericsson C902 offers a very spacious phonebook
When adding a new contact, the available details are stored in five available tabs. The first is where you put the name and the numbers, the second holds the email and web addresses. The third is for assigning a picture, custom ringtone, custom message tone and a voice command. The fourth goes for postal details. The last, fifth tab, is for making an additional note and adding a birth date.
When you enter a birthday, Sony Ericsson C902 prompts adding it to the calendar and setting a reminder, which we think, is a handy feature.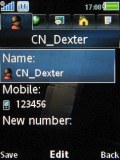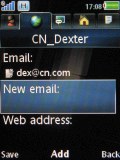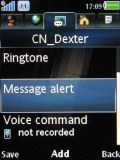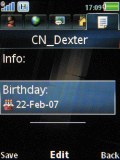 Editing contacts in tabs on Sony Ericsson C902
Finally, the Smart Search completes the set of more important phonebook features. It looks up all the contacts whose numbers contain the digits you type on the stand-by screen. In addition, it also lists the names that start with the letters corresponding to the digits.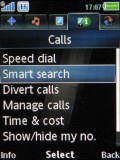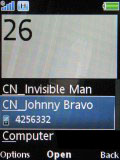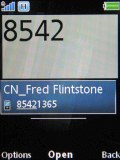 The much appreciated Smart search
The well-known Call log keeps track of your recent communications. It is divided into four different tabs. They are: All, Answered (Received), Dialed and Missed. When there are several calls made to a single contact, only the last one gets recorded.
Telephony
Sony Ericsson C902 is great at making and receiving calls. Loudspeaker sound is very loud and crisp and you certainly wouldn't miss an incoming call even in noisy surroundings.
Here is how the Sony Ericsson C902 stacks up against some of the other handsets we've measured in our speakerphone loudness test. The integrated loudspeaker did great - the Sony Ericsson C902 scored a Very Good mark. More info on our test and all current results can be found here.
| | | | | |
| --- | --- | --- | --- | --- |
| Speakerphone test | Voice, dB | Pink noise/ Music, dB | Ringing phone, dB | Overall score |
| Nokia 6600 fold | 66.7 | 62.1 | 64.6 | Below Average |
| Samsung U900 Soul | 69.7 | 66.3 | 71.1 | Average |
| Samsung G800 | 70.7 | 66.6 | 73.6 | Good |
| Sony Ericsson C902 | 68.8 | 72.2 | 78.2 | Very Good |
| Nokia N95 | 79.5 | 76.5 | 75.7 | Excellent |
Messaging
Along with the standard messaging functionality, Sony Ericsson C902 offers the latest Sony Ericsson Manage Messages feature, plenty of settings for accounts, and the option to assign categories to messages.
The Manage Messages application enhances message handling. Messages can be moved to memory card or phone memory, arranged by categories, date, size, and contact.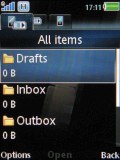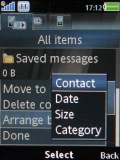 Manage Messages keeps all items in perfect order
Sony Ericsson C902 handles all common types of messages. With the C902 all messages, except emails, share a common inbox.
When composing a message a warning is displayed when you exceed the 160-character limit, to let you know that the message will be divided in two (or more if necessary) parts for sending. There is also a rich T9 dictionary.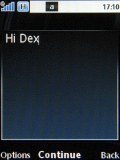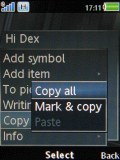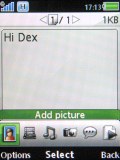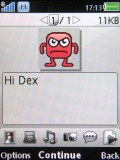 SMS and MMS editors on Sony Ericsson C902
The phone also supports push email to boost mobile email usability. Emails are delivered in the background (similar to SMS or MMS).
The email client in C902 supports dozens of settings and all types of encodings, just like some of the most advanced messaging devices out there. With high-speed data in focus with this handset, it's hardly a surprise. Sony Ericsson C902 can save attachments, no matter if they are supported or unknown file formats. Email messages can be sorted by size, date and time.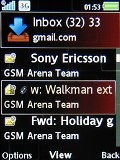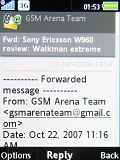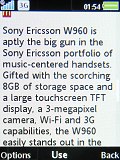 The email client is easy to set up and nice to work with
Unfortunately the phone is unable to handle any documents that are attached to emails (such as .xls, .doc, or .pdf files for example) due to the lack of a document reader. So the options are limited to plain text only and you should have that in mind if you're going for the C902.
The final available options in the Sony Ericsson C902 email client are viewing a message fullscreen and changing the font size (small, medium, large). We did find them both quite handy.