Cyber shot, cyber hot
Sony Ericsson C905 review: Cyber shot, cyber hot

8.1 MP with nice Cyber-shot handling
The 8 megapixel power of the C905 is harnessed in the friendly and efficient interface, which we've known - and appreciated - across a number of high-end Cyber-shot handsets. While the handling and available features are well familiar, the camera quality is what caught us unprepared. Photos are so impressive we're tempted to suspect a complete revision of image processing. A minor fix just couldn't have brought such a boost in quality.
The 8 MP AF camera in the C905 offers a wide range of features like face detection, camera images geotagging, smart contrast, exposure metering, image and video stabilizer, BestPic, auto-rotation, macro mode, red-eye reduction, Xenon and Photo Flash, etc. The C905 user guide claims a manual ISO setting with up to 400 ISO at hand, yet there is no sign of an ISO sub-menu in the camera interface of our test unit, which is a final hardware platform with the latest firmware version.
Update 28 Nov: As we finally got a hold on of a retail C905 unit, we can confirm that the camera interface lacks any option for setting up the ISO.
The C905 is capable of maximum image resolution of 3264 x 2448 pixels with average file size of about 2.5 MB. The lens is perfectly protected under the sliding cover and camera controls are very comfortable to use, especially the shutter key.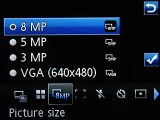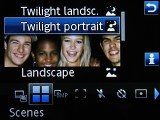 Scene presets and picture size
There are no surprises in the latest Cyber-shot interface. Settings on toolbar with pop-up submenus and the Multi Menu are well known since K850 and do help the user experience. The two photo keys over the display and the D-pad in camera mode give access to the most frequently used camera settings like focus mode, exposure, flash control, and self-timer. Traditionally, the viewfinder toolbar lets you control shoot mode, scenes, picture size, focus mode, flash, self-timer, exposure metering, white balance, effects, and settings (Multi menu).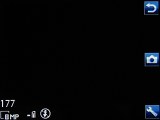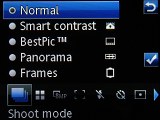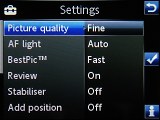 Cyber-shot v2.0 camera user interface: viewfinder • viewfinder with settings • multi menu
Two camera features are notable in the C905. We saw Face detection back in C902 as an extra setting in Focus mode. The face recognition system allows you to simultaneously track as many as 3 faces whereas focus is usually locked on the one that's closest to the center of the frame usually. Smart contrast is a new feature, which should be handy for heavily backlit scenes for example. We tested it and it does make a difference.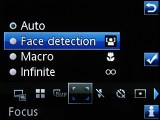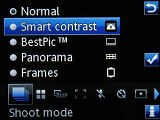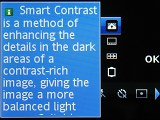 Face detection and Smart contrast settings • tooltips on most of the features are helpful
The image stabilizer is supposed to keep images from blurring in dark environments but, as in all phone cameras so far, it's purely a software tweak of questionable use. Plus, keeping it off can help if your subjects are moving.
The ultra quick-snapping BestPic mode has two varieties - fast and slow. In fast mode it produces 7 full-size 8 megapixel images for about 0.8 sec, while in slow mode takes 7 images again but in a longer interval of about 1.7 sec. Sadly, the xenon flash is unusable in any of the two modes.
With a built-in GPS receiver Sony Ericsson C905 is capable of putting standard GPS coordinates in images. You can enable geotagging (Add position) from the settings to add GPS location data to your pictures. A flag icon at the bottom of the viewfinder indicates that the option is activated. A satellite icon in the top left corner is showing that the phone is attempting to get GPS lock.
With our pre-release unit only a few of our sample photos were properly tagged. Interestingly, the View on map option worked for all images, even those we thought failed with geotagging. So, we guess it's a bug that should've been fixed now that the phone is on the shelves.
Update 28 Nov: The proper geo-tagging of images requires some time for the GPS to lock position. The successful lock is depicted by a set of green stripes in the upper right corner of the camera viewfinder (right next to the satellite icon).
You can of course speed up the process by enabling the Assisted-GPS function, but this would generating some extra data traffic on your account. So have that in mind if you want to use A-GPS.
When browsing tagged images in the gallery, the View on map option displays the shows where the picture was taken directly on the preinstalled Google Maps.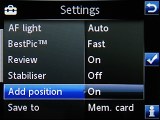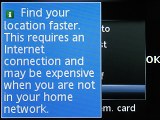 Enabling geotagging • Flag denotes geotagging on • satellite lock icon in viewfinder
Sony Ericsson C905 has both Xenon and LED flash, the latter also used as a focus assist beam. The Xenon flash is a real asset but we were surprised to find no Always on option (unlike Samsung INNOV8). So, using a fill flash in backlit scenes is out of the question. Of course, Smart Contrast does a good enough job but it still would've been better to let users have a say. Another way to deal with the situation is metering mode at one or two steps of underexposure.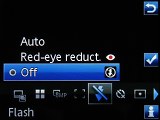 The Flash control tab in the menu
The dedicated macro mode in C905 allows you to take images from as close as 10 cm. The optional silent shutter is also among the worth-mentioning features. The other one is the built-in accelerometer, which lets you rotate the viewfinder or images in the gallery.
The one shortcoming we found concerns the menu one-way layout - to reach the Multi Menu you have to pass all the other settings on the toolbar, as it's the last item there. Looped browsing of items on the toolbar should be an option, as with the camera interfaces of competing brands.
Sony Ericsson C905 seems to have undergone a complete rehash of the image processing algorithm. The photos have vibrant and balanced colors and very mild sharpening. Noise is kept to really comfortable values for a camera phone. Chromatic aberrations even in high-contrast or underexposed areas are well under control. The purple fringing has almost completely gone. C905 produces astonishingly fine detail.
The Sony Ericsson team must have put great effort to addressing those issues. We can conclude the C905 will be a tough contender and the shootout we're brewing for you will be a remarkably close match.
Anyway, a picture is worth thousand words, so there we go with our collection of samples produced by Sony Ericsson C905.




Shooting in overcast and sunny weather does make a difference




Focusing on the text in macro mode • fruits in mornal and macro mode





The Flowers look crisp and vivid
And there's a bunch of images downsized to 1024x768 pixels.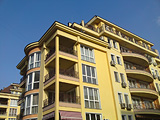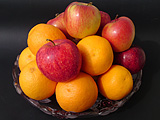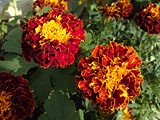 Sony Ericsson C905 camera samples downsized to 1024 pixels
Of course, the C905 is also capable of capturing video, even if it's limited to QVGA resolution at 30fps. The clips are recorded in mp4 format and take about 3 MB for every minute of recording. Interestingly enough, the C905 camera is also officially quoted to record stereo sound to video clips, as was the Sony Ericsson C902.
Here is a sample video for you to check out.