The user interface
The Sony Ericsson C905 features the graphically updated Sony Ericsson user interface that's been used on all recent Sony Ericsson handsets. And just to mention this again - the C905 is not a smartphone despite the presence of GPS and Wi-Fi connectivity.
The Media Center is present of course to give you access to all the stored multimedia content. It features automatic screen rotation thanks to the built-in accelerometer and a TV-out port. Music player sports the MegaBass audio equalizer preset for die-hard Walkman fans.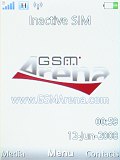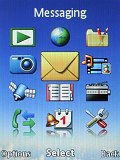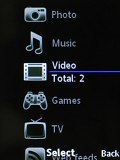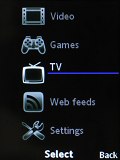 There's the regular Sony Ericsson interface • the Media Manager offers auto screen rotation and TV-out functionality
Embedded GPS receiver
The Sony Ericsson C905 Cyber-shot offers the full range of Location services that we've already seen in some of the recent Sony Ericsson devices such as the W760 and the C702.
The Location services pack makes use of the built-in GPS receiver and application-wise offers Google Maps for Mobile, the Wayfinder Navigator 7, a GPS Status application and a GPS Log application. Google Maps is an excellent application and best of all it's free, however it doesn't offer turn-by-turn navigation.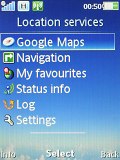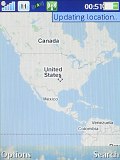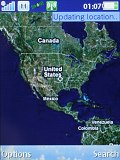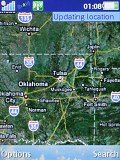 The Location services menu • Google Maps activates the GPS automatically
The Wayfinder Navigator 7 is the real deal navigation software but in previous Sony Ericsson models it offered time-limited trial turn-by-turn navigation and then required a paid monthly subscription. We guess the situation with the C905 won't be much different.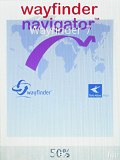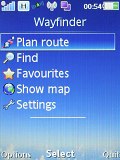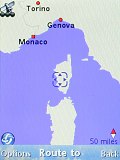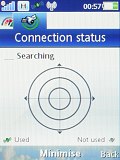 Wayfinder Navigator 7 • The GPS Status application
Connectivity and Wi-Fi
Probably the most intriguing feature of the Sony Ericsson C905 (after its 8 megapixel camera, of course) is its Wi-Fi connectivity. It's implemented rather well in the user interface and it's located rather logically. Once you turn the Wi-Fi on, you get a list of the available wireless hot spots. Connecting is a matter of single click - it's that easy. The web browser and all other data traffic is re-routed through the Wi-Fi connection by default, when you are connected.
Additional settings allows you to search hidden networks by their SSID, check your connection status, MAC address (you cannot change that), as well as setup auto connection and WLAN network priorities.
The wireless capabilities of the C905 are further enhanced by the presence of SIP support (VoIP) and Network sharing. Those were a pleasant surprise.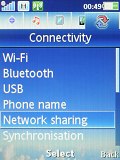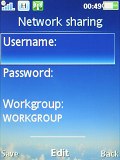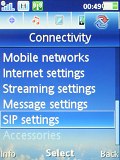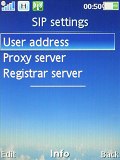 Network sharing setup and SIP settings
The C905 comes with the NetFront 4.5 web browser, which is an amazingly capable browser (for a feature phone that is). We've already reviewed the NetFront web browsing capabilities in previous reviews so we are not going to get into detail now. The only other thing that's worth noting is that the web browser also benefits from the built-in accelerometer and rotates its screen automatically.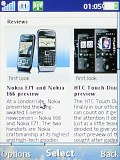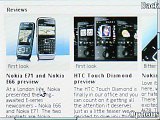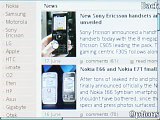 The NetFront 4.5 web browser allows auto screen rotation
8 megapixel camera sounds sweet
Well, the all-important feature of any cameraphone is its camera performance. The Sony Ericsson C905 is armed with an 8 megapixel shooter that is capable of producing a maximum image resolution of 3264 x 2448 pixels.
Other camera features include digital stabilization, special Smart Contrast shooting mode, as well as the traditional BestPic and Panorama. Several preset scenes are also available, as well as face detection. Thanks to the built-in GPS, geotagging is also on-board.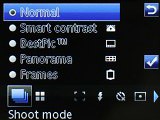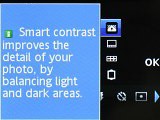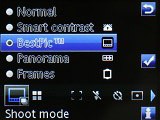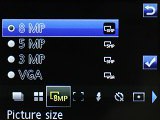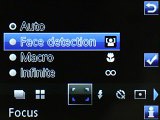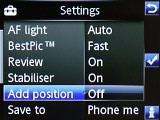 Some of the available camera settings
As far as video is concerned, the C905 is still not capable of competing with the market leaders in this respect. The C905 maxes out at QVGA resolution at 30 fps. That is enough for an enjoyable video but there's still a lot to be desired from a high-end cameraphone.
Unfortunately, our beta unit used for this preview doesn't produce photos that are worth publishing. Instead we chose to publish several photos taken by our partners over at MobilMania.cz. You should bear in mind though that their unit was also a beta one and those images are here just for demonstration purposes.

Sony Ericsson C905 camera sample photos
Just to give you an idea of what those photos can turn out with just a wee bit of photoediting, here are their versions edited by us - both images are downsized to 1024x768.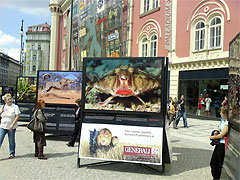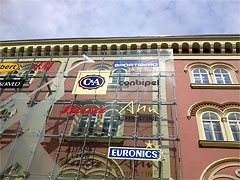 Sony Ericsson C905 sample photos downsized to 1024x768 resolution
The Sony Ericsson C905 also offers several interesting additional applications - there's a rich choice but we'll just mention two of the more interesting. The CamPlus Java application adds some special shooting modes to the camera. The Timer camera allows automating shooting at predefined intervals, while the Motion camera automatically shoots images when motion is detected.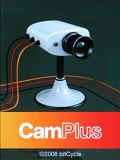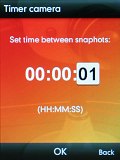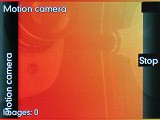 CamPlus adds new shooting modes
The other interesting application is not new as it has been pre-installed on previous Cyber-shot handsets. However that doesn't mean it's not useful. The Photo Mate application is a sort of a photography handbook offering advice and tips for getting the best shot in different environments.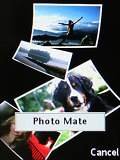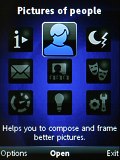 The Photo Mate application is a photography handbook
Conclusion
Well, this was our report on the brief hands-on experience we had with the 8 megapixel Sony Ericsson C905 Cyber-shot. We are highly excited by it even at this pre-release stage and we just can't wait to get our hands on a final unit. For now we are left with good impressions that we hope will be reaffirmed when we start a full featured review some time in the future.