XPERIA junior - the Sony Ericsson XPERIA X8 - has joined the X10 party and getting the Android 2.1 Eclair update. Just like the X10 minis, there are some additional improvements to the X8 software.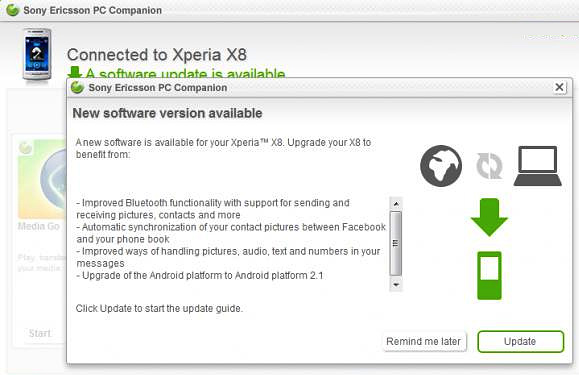 The Eclair update for Sony Ericsson XPERIA X8 is rolling out (image source)
The Sony Ericsson XPERIA X8 uses pretty much the same software package as the XPERIA X10 and X10 mini, so when they get updated, the update for X8 is close behind (and bringing the same improvements).
Here's a reminder of what those extras are:
Improved Bluetooth functionality with support for sending and receiving pictures, contacts and more
New back up and restore application, with extended content back up
Automatic synchronization of your contact pictures between Facebook and your phone book
Improved ways of handling pictures, audio, text and numbers in your messages
Improved web browser
The update is happening gradually - to see if the update for your Sony Ericsson XPERIA X8 is out, check it SI-number (found on the back of the phone) and look it up in the list on the Sony Ericsson Product Blog page.
G
All in all,this is a useless phone ever made.No upgrade android,no autofocus(zoom)and can't save apps in SD card.
A
I use xperia x8 but this phone unabale to credit google account.Now What can I do? please help!
g
hey, am using E15i experia, unable to create google account error:(can't establish) and ask me to contact cust care
ADVERTISEMENTS