Telephony
Sony Ericsson G502 did manage to perform well in terms of call management too. The presence of the Smart Search feature is more than welcome. It looks up all the contacts whose numbers contain the digits you type on the stand-by screen. In addition, it also lists the names that start with the letters corresponding to the digits.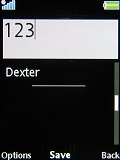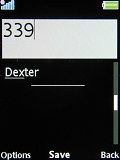 Smart search looks up contacts whose numbers contain the typed digits and names that have the letters assigned to them
The Call log keeps track of your recent communications. It is divided into four different tabs. They are: All, Answered (Received), Dialed and Missed. When there are several calls made to a single contact, only the last call gets recorded.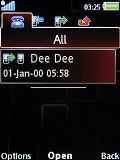 The Call log keeps track of your recent communications
Here is how the Sony Ericsson G502 stacks up against some of the other handsets we've measured in our speakerphone loudness test. The integrated loudspeaker sounded great - the Sony Ericsson G502 turned out to be one of the loudest handsets we have tested.
| | | | | |
| --- | --- | --- | --- | --- |
| Speakerphone test | Voice, dB | Pink noise/ Music, dB | Ringing phone, dB | Overall score |
| Sony Ericsson G502 | 77.7 | 75.7 | 74.8 | Excellent |
| Samsung D880 Duos | 66.2 | 65.0 | 66.0 | Below Average |
| Nokia 6500 slide | 74.2 | 72.8 | 78.2 | Very Good |
| Nokia N81 | 68.8 | 67.8 | 75.7 | Good |
| Samsung E250 | 71.9 | 64.7 | 69.8 | Average |
| Sony Ericsson W910 | 77.5 | 70.7 | 82.7 | Excellent |
You can find more info about our loudspeaker test, as well as the results of other tested devices here.
Messaging is a joy
Along with the standard messaging functionality, Sony Ericsson G502 offers the latest Sony Ericsson Manage Messages feature, plenty of settings for accounts, and the option to assign categories to messages.
The Manage Messages application allows messages to be moved to memory card or phone memory, arranged by categories, date, size, and contact as well as other functions or improved message handling. It truly is a great application that allows the user of Sony Ericsson G502 to keep messages perfectly ordered.
Sony Ericsson G502 handles all common types of messages. They all go to a shared folder - the Inbox. No matter what kind of message has been received, it goes to the Inbox. Only emails have their own dedicated Inbox.
When composing a message a warning is displayed when you exceed the 160-character limit. If you proceed typing any further your message will be divided in two (or more if necessary) parts for sending. There is also a rich T9 dictionary but this is hardly any news any more.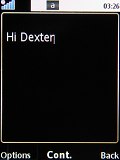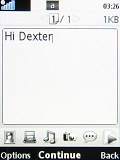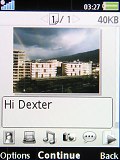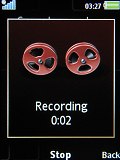 SMS, MMS and audio message editors on Sony Ericsson G502
With the GSMArena RSS feed we tested the G502 reader accessible through the messaging menu. It is in fact working very nicely with a pop-up on the home screen indicating new content available.
The email client in G502 supports dozens of settings and all types of encodings, just like the some of the most advanced messaging devices out there. With internet experience in focus with this handset, it's hardly a surprise. Sony Ericsson G502 can save attachments, no matter if they are supported or unknown file formats. Email messages can be sorted by size, date and time.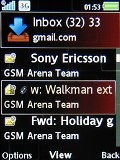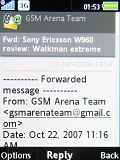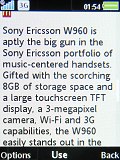 The email client is easy to set up and nice to work with
Unfortunately the phone is unable to handle any documents that are attached to emails (such as .xls, .doc, or .pdf files for example) due to the lack of a document reader. So the options are limited to plain text only and you should have that in mind if you're going for the G502.
The final available options in the Sony Ericsson G502 email client are viewing a message fullscreen and changing the font size (small, medium, large). We did find them both quite handy.
Multimedia capabilities are great, but not Walkman-great
The Sony Ericsson G502 Media center menu allows one-click access to available Photos, Music and Videos. The current pick is highlighted and the count of included files is displayed. The menu is not nearly as rich as the one on the Walkman-series phones but at least all the basics are covered. There is no built-in accelerometer but you can still switch between portrait and landscape orientation from the menu.
Picture gallery
The Photo gallery of Sony Ericsson handsets is undoubtedly one of the best to find on feature phones. In this case, G502 is equipped with a convenient tool for managing a vast collection of photos with great customization capabilities.
From here you get access to the latest snapshot you've taken, your camera album in timeline view, and the rest of your images, such as wallpapers, etc. You can also tag photos with custom tags that can be used for filtering later on and, finally, you can access favorite photo feeds straight from here.
The Timeline view of the Camera Album displays image thumbs filtered by the month they've been taken. When you highlight a photo it gets a bit larger for better viewing.
When browsing the images fullscreen, the next to come doesn't simply pop up but slides in from left or right instead. This might just be eye-candy but it doesn't make it any less noteworthy. Again, when exiting the full screen view of a picture, it smoothly zooms out to thumb view. We were pleased to find that viewing images one by one didn't involve any lags at all. As a matter of fact the whole multimedia performance of Sony Ericsson G502 is really fast and generally deserves a very good mark.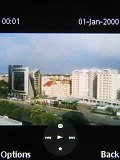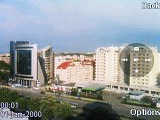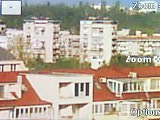 Previewing your pictures on Sony Ericsson G502
Music player is good
The Sony Ericsson G502 features the Walkman 3.0 music player. This is in fact a brilliant application that supports numerous file formats and has several equalizer presets including the Mega Bass one. You also get the Album art which is a nice final touch to the player. As with previous versions, the music player offers step-by-step filtering of the tracks you want to hear.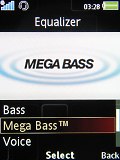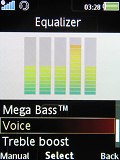 The equalizer presets are nicely visualized
Sony Ericsson G502 "Now playing" interface is simple and intuitive. The D-pad is in charge of the music controls and also brings up a list of all the tracks in the current playlist or album. Naturally you can also minimize the player to play in the background.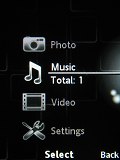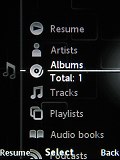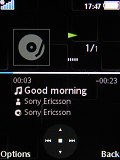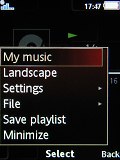 Walkman 3.0 music player interface is one of the best we have seen
FM radio with RDS and TrackID
The integrated FM radio of Sony Ericsson G502 has memory for 20 stations and supports RDS. It has nice interface and makes great use of the TrackID music recognition service which comes preinstalled. The radio can be minimized in the background much like the music player but offers none of the fancy fullscreen graphics.
Video player as good as it gets
Sony Ericsson G502 is also equipped with a really nice video player. It supports fast-forwarding and rewinding, as well as playing clips in slow motion. It has landscape mode, as well as settings for video size like Original, Auto Fit and Fullscreen.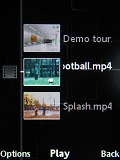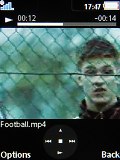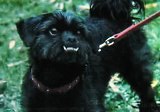 Video player even allows playing videos is slow motion
A really cool feature of the video player is the screenshot capability. It allows you to save a picture directly from your video and add it to the gallery.