A nice 2 megapixel snapper
The Sony Ericsson G502 is armed with a 2 megapixel camera with a maximum image resolution of 1600 x 1200 pixels. It is obvious that photographic capabilities are not in the focus with this handset.
The camera interface is the better half of the imaging capabilities of the G502. It is very close to what we have seen in some of the latest Cyber-shot handsets and those are really meant to be used for shooting. However, the G502 is depraved of some of the features the high-end Cyber-shots have.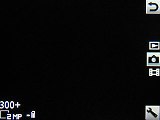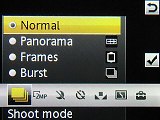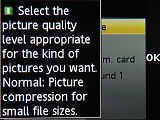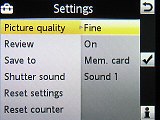 Sony Ericsson G502 camera user interface
Sony Ericsson G502 uses the toolbar layout, which is our favorite among camera interfaces. Accessibility is quite good, with the more important settings conveniently placed. The Settings multi-menu has pretty much standard digicam looks. Some of the available options on the menu are: Picture Quality, Review, Save to, Shutter sound and Reset counter. The BestPic feature of course is not available.
The quality of the images taken with Sony Ericsson G502 is, as you might have guessed, not something to write home about but it seems above the average level for a 2 megapixel shooter. The colors are precise and the detail levels are satisfactory.
Here are several camera samples for you to check out:
As far as video recording is concerned, Sony Ericsson G502 manages QVGA resolution clips at 15fps. Those are not numbers that hint of some spectacular performance. In fact producing a usable movie clip is more than a challenge. The only beam of sunlight here is the user interface, which like the one of the still camera is really user-friendly and responsive.
Connectivity: a pleasant surprise
Now that's where Sony Ericsson G502 becomes a showoff. The Internet-centered device boasts a load of connectivity options and is surely (one of) the best in its price range. GPRS, EDGE and 3G are all on board, so there is virtually no spot on earth where you will be unable to connect. In addition, you've got the fastest data transfer around, provided that a HSDPA-enabled network is available.
Besides the network-based connectivity, Sony Ericsson G502 offers the usual Bluetooth v2.0 and USB options. There is also support for the A2DP profile allowing listening to music on a stereo Bluetooth headset. Last, but not least, there is also the M2 card slot which might just turn out to be one of the quickest means of transferring data on some occasions.
With Wi-Fi still a hallowed smartphone ground, it is hard to think of anything the Sony Ericsson G502 is missing.
Web browsing in focus
Sony Ericsson G502 uses the latest Access NetFront HTML browser 3.4. It's pretty much the same as the one on the Sony Ericsson K660, which we previewed not so long ago. If you have been keeping track, you would know that we are in fact great fans of this edition of the NetFront browser application. Elaborate web pages are rendered brilliantly and there are lots of configurable settings too.
There are fullscreen and orientation mode settings. Those are very helpful if you use your Sony Ericsson G502 for reading longer texts online. The Panning/scrolling speed is also up to the high standard.
The Sony Ericsson G502 web browser offers a virtual mouse pointer, which is a real pleasure to work with. Another interesting and practical feature is the "Find on page" option. It searches the loaded web page and the first match is immediately listed as soon as you type a letter.