Organizer is good
Organizing your time with Sony Ericsson G502 is nice and easy. The handset offers a pretty much standard set of applications: File manager, Alarms, Calendar, Tasks, Notes, Timer, Stopwatch, and Calculator. All but the alarm are accessed through the dedicated organizer icon in the main menu. The alarm has its own reserved spot in the menu and, having in mind that it is the most frequently used feature, this seems as s good decision.
There are also two relatively rare applications - Synchronization and code memo. The first one is used for synchronizing your Sony Ericsson G502 with SyncML and Exchange ActiveSync servers. Code memo allows you to make password protected memos.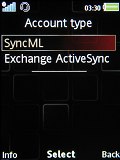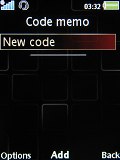 The code memo and Synchronization applications
The Calendar of Sony Ericsson G502 offers monthly, weekly and daily view modes. When you enter a birth date in the phonebook, the phone prompts adding it to the calendar. You can of course set appointments but there are no presets, so you will have to customize each field.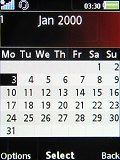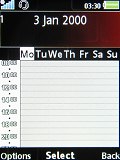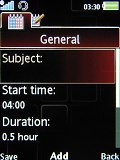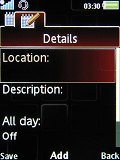 Calendar month and week view modes and setting up an event
The alarm clock application is also very nice to work with and easily customizable. Sony Ericsson G502 has 5 alarm slots and each of them can have its own name, picture and behavior in case silent mode is activated. The other configurable options include alarm tone and days of repetition.
Another useful time-management application is Tasks. It allows creating two types of tasks: simple Tasks and Phone calls. The latter also records the phone number to be called so it is at hand when needed.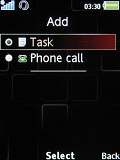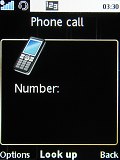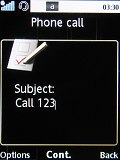 Tasks is another useful organizer application
There is nothing special about the Notes application. It has an interface that is somewhat similar to the SMS editor and supports the T9 predictive input. Copying and pasting text is also available and so are some special symbols and emoticons.
The Sony Ericsson G502 calculator is pretty much standard for the company non-smartphone portfolio. It has a very limited set of functions and not the best user interface around. Still it is good enough for the most common use.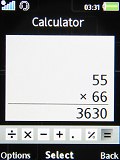 The Calculator is pretty average with limited number of functions
The stopwatch and countdown timer are also the well known basic applications - no bangs and whistles.
Applications
There are also some additional applications on board the Sony Ericsson G502. Once again, due to the fact that our unit was a beta version, it might not have all the extras of a retail version but our guess is that differences won't be that big.
AccuWeather Lite gives you up-to-date weather information for locations of interest to you. It provides really detailed information about the current weather conditions in the selected region, as well as a 3-day forecast. You should bear in mind that it requires an internet connection and data charges may apply.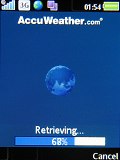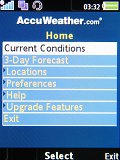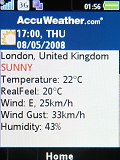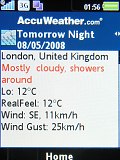 The AccuWeather application offers detailed information about the weather all over the world
The Converter handles six different types of measures. It works with distance, volume, temperature, speed, weight and area. It also has support for five different languages.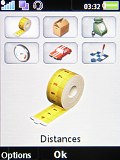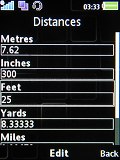 Sony Ericsson G502's converter can handle 6 different types of measures
The last featured application in our Sony Ericsson G502 is the familiar enough Google maps.
Gaming OK
There was only one game on our Sony Ericsson G502. It was the good old QuadraPop, which is to be found on most devices by this company. It is a rather amusing Tetris-like game where you have to group similar gems in order to score more points.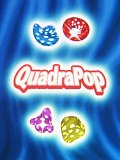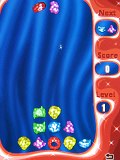 QuadraPop is entertaining enough
Final words
All in all, Sony Ericsson G502 turned out a very capable thingy. It has the performance to back up its specs and scores high enough where it really matters - the internet experience. Decked with the proper price tag, it is sure to earn a top spot in the wish list of everyone after a good internet-capable phone and not willing to pay an arm and a leg.
On the other hand, the G502 has a number of limitations, as expected in a budget phone. It has little hidden surprises, so if you are not pleased with the specs sheet as it is, you'd better look elsewhere for your next handset.
Sony Ericsson G502 has altogether good chances of becoming a market success and the price is once again going to be make-or-break. After all, talking phones in this price range, it is a fine line between triumph and fiasco.