Midrange camera performance
Sony Ericsson G705 sports a 3.2 MP fixed-focus camera with LED flash. The camera offers a basic range of features, geotagging being the most notable of them. The camera is capable of maximum image resolution of 2048 x 1536 pixels with average file size of about 1 MB. The other important thing is the Cyber-shot styled interface.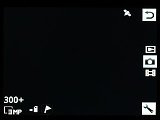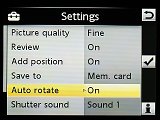 Cyber-shot v2.0 camera user interface: viewfinder • multi menu
Settings on toolbar with pop-up submenus and the Multi Menu are well known since K850 and do help the user experience. Traditionally, the viewfinder toolbar lets you control shoot mode, scenes, picture size, LED flash, self-timer, white balance, effects, and settings (Multi menu).
That the toolbar is only enabled for one-way scrolling is a certain drawback. To put this straight - in order to reach the Multi Menu you have to pass all the other settings on the toolbar, as it's the last item there. Looped browsing of items on the toolbar should be an option, as with the camera interfaces of competing brands.
Built-in GPS enables Sony Ericsson G705 to add standard GPS coordinates to images. When browsing tagged images in the gallery, you have access to a "View on map" tab from the options menu, which displays your location directly on the preinstalled Google Maps.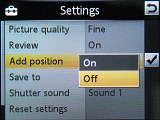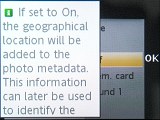 The Add position setting in the menu
The limited camera features and the lack of autofocus may have made you rush to a conclusion about image quality. Though our camera unit firmware is a pre-release version, we see quite good potential in the image quality. Yet we cannot upload as of now full size images, but will do this as soon as we get a final retail version in our hands.
Sony Ericsson G705 camera samples downsized to 1024 x 768 pixels:
Sony Ericsson G705 is also capable of capturing video but is limited to the unacceptable QVGA resolution at 15fps recorded in mp4 format.