Location services and knowing your way around
Available for free download and compatible with a variety of mobile OS and Java-enabled handsets, the Google Maps for Mobile come preinstalled in the G705. With Location services you can get help finding your way, view information about your current location and save your favorite locations. To use all features of the Location services internet access is a must.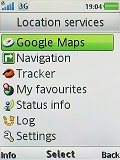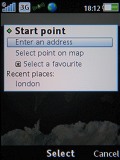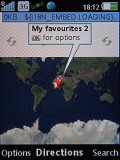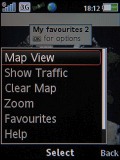 Location services with Google Maps • User interface and some of the menu options
After defining a start and end location, the possible routes are being calculated with overall guidance, based on the available information in the database.
Two different view modes are available - Satellite and Map view. Traffic information is another important feature here. The user interface is nice and intuitive.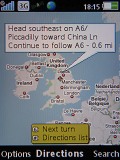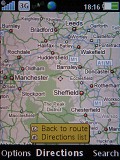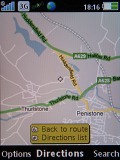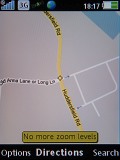 The Map view is very informative • zooming in a street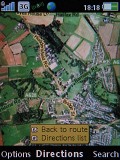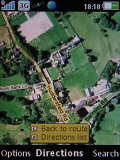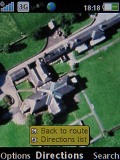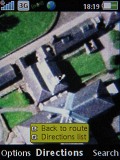 Zooming in a satellite view brings you to a street level details
The Status info application displays the current activity in km/h for a 60 minutes period. GPS connection status is indicated on the second tab of this application.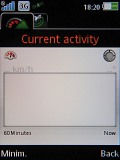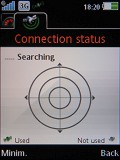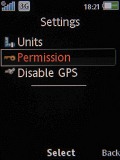 The Status info application and some of the available settings
Of course, saving your most recent routes is as easy as it could be. Within several clicks, a title, description and position is all you need to save a favorite location.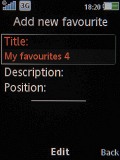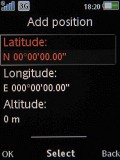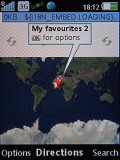 Adding a specific location as favorite
The Log application in the Location services tracks and saves each position request, which is accessible at any time afterwards. Each entry in the log is saved in descending order by date and displays the date and time, as well as the exact GPS position.
Wayfinder Navigator 7 navigation software
The Wayfinder Navigator 7 is the real deal navigation software but in previous Sony Ericsson models it offered time-limited trial turn-by-turn navigation and then required a paid monthly subscription. We guess the situation with the G705 won't be much different.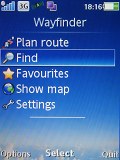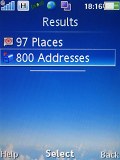 The Navigator 7 app is within the Location services section
Route planning is extensive, there's pedestrian mode, as well as the option to avoid toll roads. Routes can be optimized for either time or distance. You are allowed to choose among tree modes of voice prompts: complete, fewer or none.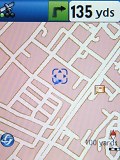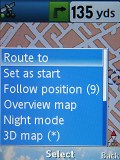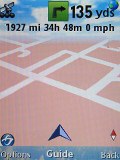 The 3D map view and the pop-up menus
The other navigation modes are 2D map, guide and automatic.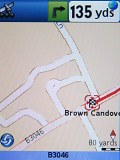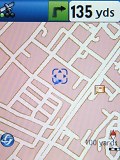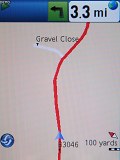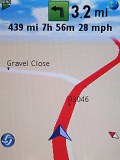 The rest of the navigation modes
The Overview map with day and night modes is also onboard.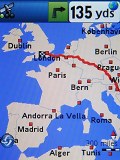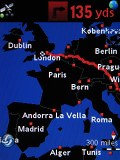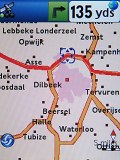 The overview map with day and night modes
In Sony Ericsson G705 the built-in GPS gets used not only with Google Maps but with the proprietary fitness application called Tracker.
The app allows you to keep track of your speed, distance, route, and calories during training. Using the Tracker doesn't require connection to the Internet, and there are no costs related. When the Tracker application is launched and "Start training" is selected the application looks for available satellites. Users can choose between time, distance, route based or no limit trainings.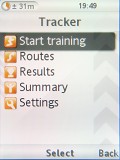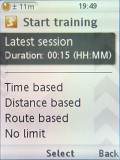 The main menu of the tracker application
The menu of the Tracker application consists of Start training, Routes, Results, Summary, and settings submenus. Under Routes the routes covered so far are stored. The distance covered is shown in either meters or kilometers. Each route can be viewed in a graphic map.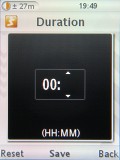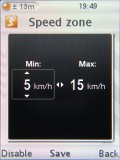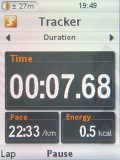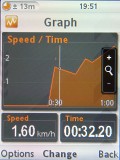 The Tracker application and starting a new training
Results sorts all the activities in a calendar month view. Sessions saved for the particular month are indicated by a small icon. The same holds true when day view is selected. Each result can be analyzed in graph or replayed. The graph shows the average speed and the activity total time.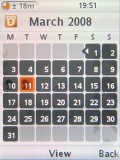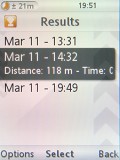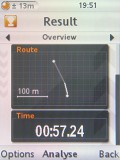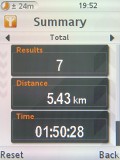 An verview of all activities is available with the total results, distance and time
In the settings menu there are plenty of customization options for the Tracker - units, energy consumption, personal profile, auto save routes, etc. In the personal profile you are prompted to enter details as gender, height, weight, and year of birth. Having defined a speed zone when starting a training session, you will be prompted with phone vibration and on-screen text to speed up or slow down to keep within the preset speed.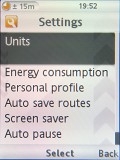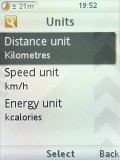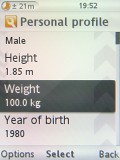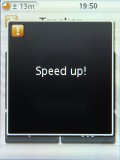 The settings menu and the prompt option
We liked the Tracker application - it proved a handy piece of software. Bear in mind that it requires access to satellites and cannot be used in covered areas such as indoor gyms or the like.
Games are good
Sony Ericsson G705 features three games: Brain Juice, JewelQuest2 and Super Breakout.
The Brain Juice is quite entertaining game and involves solving mathematical problems, memory games and pattern recognition exercises.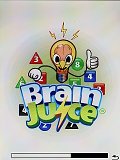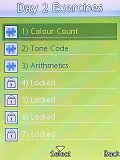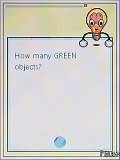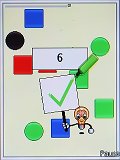 Brain Juice game in the Games sector of Media center
JewelQuest2 is a puzzler game. You have to rearrange precious relics to turn tiles into gold as you advance through the interesting levels.
We found the Super Breakout to be the most entertaining among the preinstalled games. It has decent graphics and is full of block-breaking action over diverse levels and bonus stages you can unlock.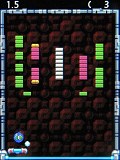 Our favorite Super Breakout game
Final Words
Guts to stand up to smartphones and utterly self-effacing looks is a nice little twist we guess. It's like the G705 is there saying "Misjudge me, be my guest".
Yes, with a feature set like that, looks are the last thing it needs to boost self-esteem. Actually, if that's how midrange spec sheets are shaping, we dare not imagine what better treats future top devices hold in stock for us. If nothing else, Sony Ericsson G705 deserves credit for pioneering the shift.
But that's exactly why it needs some more personality, we think. It doesn't have to stun onlookers. No need to have GPS, Wi-Fi and HSDPA engraved in gilded letters. The solid skill and good headstart from the main competitor - which is hardly a looker itself - are strong enough assets. We just don't want it to drown in the mass of faceless low and midrange Sony Ericsson sliders. The G705 is just better than that.